Former Georgian Defense Minister Arrested On Return To Country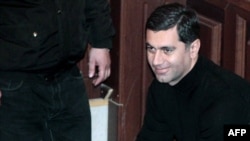 TBILISI -- Former Georgian Defense Minister Irakly Okruashvili is now under arrest in Tbilisi after spending the last five years abroad.
Georgian Justice Minister Tea Tsulukiani told journalists that Okruashvili returned home on November 20 from a European country "with an intention to prove his innocence."
Tsulukiani added that "although courts in Germany and France found Okruashvili was politically persecuted, it is not possible to lift all charges against him immediately."
Okruashvili left Georgia in 2007 after investigations were launched into allegations of bribe taking and the formation of an illegal armed group.
He was later tried in absentia and sentenced to 11 years in prison.
Okruashvili's return to Georgia comes days after the country's new government launched investigations against a number of former Interior Ministry officials.
WATCH: Former Georgian Defense Minister Is Under Arrest
With reporting by apsny.ge