Papandreou Open To Scrapping Referendum As EU Pressure Piles Up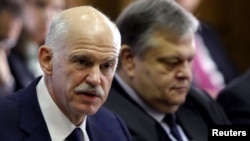 On a day of dramatic and fast-moving events in Athens, Greek Prime Minister George Papandreou signaled that he could back down from plans to hold a public referendum on the EU's bailout package for Greece if he secures broader political support.
Facing intense diplomatic pressure at home and abroad to reverse course, Papandreou told his Socialist Party after discussions with opposition leader Antonis Samaras that the vote would be rendered unnecessary if the opposition's support was secured.
"The referendum was never an end in itself," Papandreou told an emergency cabinet meeting on November 3.
In front of the Greek parliament, he told lawmakers that unity was needed if the country is to remain in the eurozone.
"Rejection of this [bailout] agreement -- either because of a referendum, either because of elections, either because we would not have a parliamentary majority, or because of a weakness in being able to carry out decisions -- means an exit from the euro," he said. "It means an exit from the euro."
Papandreou has for months faced mass street protests and protests by political opponents over the harsh austerity measures the government has imposed as a condition for receiving bailout funds for the cash-strapped nation.
Eurozone leaders last week agreed to hand Athens a second package of 130 billion euros ($179 billion) and a 50 percent write-down on its enormous debt.
Snap Elections Rejected
Winning the opposition's support for the bailout deal remains uncertain, as the New Democracy party's Samaras called on November 3 for Papandreou to step down and make way for snap elections.
Papandreou rejected that call, saying the country does not have the time to spare.
"It is doubtful if we would get to the end of elections without going bankrupt and having lost time," he said.
Samaras led a walkout during the parliamentary debate, accusing the prime minister of "blackmail, lying, and clinging onto power."
Without indicating whether his bloc would support the bailout deal under a Papandreou government, the opposition leader was quoted by The Associated Press as saying the latest European agreement was "unavoidable."
Papandreou's government, which currently retains a razor-thin majority, also faces a confidence vote on November 4.
'Actions That Count'
The Greek crisis is dominating a summit of G20 countries currently under way in Cannes, France, where German Chancellor Angela Merkel addressed the possibility that the referendum could be scrapped.
"For us, it is actions that count. And actions mean that Greece must accept the decisions of October 27 [when the bailout was agreed]," she said. "And it is not quite clear yet how that is going to happen. We will not get involved in Greece's internal politics or how this is meant to happen. But it is important [for Greece] to act fast, and that has been stressed by all, that there will be a 'yes' to the decisions of October 27."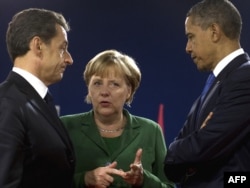 Merkel also said on November 3 that she would prefer to stabilize the euro with Greece as a member, but that the top priority is to save the euro, not rescue the Greeks.
French President Nicolas Sarkozy agreed, saying, "The euro is the heart of Europe. And Europe is at the heart of French politics. We cannot accept the explosion of the euro, which would mean the explosion of Europe."
He reiterated that neither Europeans nor the International Monetary Fund can envision paying out further installments of aid to Athens -- including 8 billion euros ($11 billion) it is to receive this month -- unless it adopts the entire package of reforms required as part of the EU bailout.
At the opening of the summit, U.S. President Barack Obama said the leaders' main priority was to overcome the eurozone crisis.
Meanwhile, China and Russia pressured EU countries at the two-summit to solve their debt crisis, with Beijing offering a possible $100 billion in rescue funds if eurozone countries guarantee that their bailout plan will work.
Russia also offered possible financial aid on the sidelines of the summit. But President Dmitry Medvedev also scolded European governments, saying their actions "need to be much more dynamic and decisive to bring about order."
While the Greek crisis remains at the top of the summit agenda, meetings are also being held to consider proposed reforms to the global monetary system and steps to reduce speculation on capital markets, such as a general Financial Transaction Tax.
written by Richard Solash and Ron Synovitz, with agency reports