Putin Says Greenpeace Activists Broke Law But 'Not Pirates'
President Vladimir Putin says the Greenpeace activists arrested by Russia are not "pirates" but that they had broken international law in their protest against Arctic oil exploration.
Putin's statement came as the authorities detained the activists for 48 hours after
opening a criminal probe
on September 24 into suspected piracy by the four Russian and 26 foreign Greenpeace activists.
Russia's Coast Guard seized the icebreaker "Arctic Sunrise" with Greenpeace activists aboard last week after they tried scaling a Gazprom-owned offshore Arctic oil platform.
Putin, speaking at an international Arctic forum in the Siberian town of Salekhard on September 25, said the Coast Guard acted in accordance with the law.
"Of course, they are not pirates," Putin said, "but, formally speaking, they tried to seize an oil platform. And our border guards didn't know who was trying to seize the platform under the guise of Greenpeace."
Russian authorities placed the 30 activists in detention centers in and around the far northern city of Murmansk after they were moved ashore from the group's Dutch-flagged vessel following their protest in the Barents Sea on September 18.
The charges against the activists carry a punishment of up to 15 years in jail.
However, Putin's comments indicate the charges of piracy could be dropped during the investigation.
A spokesman for the Investigative Committee also said earlier on September 25 that the charges could be amended if new evidence emerged.
In Moscow, Amnesty International Russia Director Sergei Nikitin called on authorities to drop the charges altogether.
"The piracy accusations are completely fabricated and do not have any legal grounds," Nikitin said. "They are absolutely baseless. We call on the Russian authorities to drop these accusations against the Greenpeace activists, who used their right to a peaceful protest. Let me stress that the activists who protested against oil drilling in the Arctic did not possess any weapons."
WATCH: Amnesty International Russia Director Sergei Nikitin called on authorities to drop the charges altogether: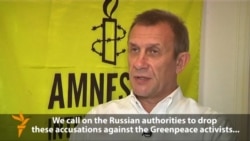 Amnesty Int'l Calls On Russia To Drop 'Piracy' Accusations Against Greenpeace
The foreign activists are nationals of: Argentina, Australia, Brazil, Canada, Denmark, the United States, Britain, the Netherlands, New Zealand, Ukraine, France, Italy, Turkey, Finland, Switzerland, Poland, and Sweden.
Diplomats from countries like Poland and Sweden said they were in touch with Russian authorities over the case. Kremlin spokesman Dmitry Peskov said that Finland's President Sauli Niinistoe raised the issue in a meeting with Putin on September 24.
Russian authorities have said that "the 'Arctic Sunrise' was in Russia's exclusive economic zone and the Russian Criminal Code has force over crimes committed in this zone."
Greenpeace has countered
that "at the time of the boarding, the Arctic Sunrise was circling Gazprom's Prirazlomnaya platform at the three nautical mile limit, inside international waters."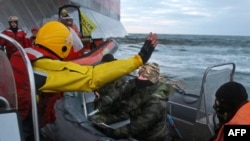 Greenpeace has mounted its #SaveTheArctic campaign in an effort to prevent Russia from becoming the first country to commercially produce oil from a normally ice-bound region north of what is known as the "Arctic ice line."
Gazprom
describes its facility
at Prirazlomnoya as an "offshore ice-resistant stationary platform... the first platform of this kind designed and constructed in Russia" and "fully adapted to operation in harsh natural and climatic conditions and...optimized for maximum ice loads."
The prospect of wider access to energy resources as global warming melts the sea ice has sparked a race between Russia, Norway, and Canada to search for oil and gas in the Arctic region.
With reporting by Reuters, AFP, AP, and RFE/RL