Fire In Grozny Skyscraper Extinguished
Russian Emergency Ministry officials say a large blaze at a 40-story apartment building in the capital of Russia's southern republic of Chechnya has been extinguished.
Officials said no casualties were reported in the fire, which had engulfed many of the upper floors of the building in Grozny.
The newly built and vacant building is part of a complex of high-rises under construction in the Chechen capital.
The complex is meant to showcase the regeneration of Grozny after years of civil war.
Officials said an electrical short circuit was most likely the cause of the fire, not a rebel attack.
More than a decade after Russia regained control over Chechnya, violence is still common in the restive republic in the North Caucasus where insurgents say they are fighting to set up a separate Islamist state.
WATCH: Video of the fire by RFE/RL's North Caucasus Service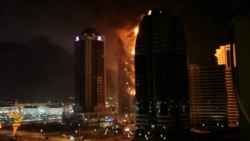 Based on reporting by Reuters and ITAR-TASS