Haseeba Shaheed Fellow Wants To Reflect Voices Of Afghan Society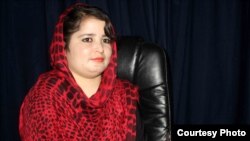 Gulmeena Yosufzai, 20, is a Haseeba Shaheed Fellow with RFE/RL's Afghan Service, Radio Azadi. The Fellowship, established in 2012 in memory of Radio Azadi correspondent Haseeba Shaheed, is a 6-month program that provides a young Afghan woman with the opportunity for mentoring and training in Radio Azadi's Kabul bureau. Yosufzai sat down with RFE/RL to discuss her life in Afghanistan, what she's learned during the fellowship, and her thoughts about the future.
RFE/RL: Why have you chosen to be a journalist in Afghanistan?
Yosufzai:
Writing has always been the most appropriate tool for me to express my thoughts and give voice to the men and women that are suffering all around me. My biggest wish as a woman journalist is to be a "real" journalist and show and reflect the problems and voices of Afghan society. I don't want only to say I am a journalist, but by working hard I want others to say that Gulmeena is a real journalist.
RFE/RL:
What are some of the major challenges for a woman journalist in Afghanistan?
Yosufzai:
I think security is on every one's mind these days, so I consider it the biggest challenge for everyone, including women journalists. The poor economy and social restrictions put enormous pressure on every woman in Afghanistan. Family problems that usually lead to domestic violence against women limit them in every field. But I also think that we are still in the phase of taking baby steps, so we have to go a long way and not give up because of challenges.
RFE/RL:
In addition to journalism, I understand you also write poetry. What is your poetry about?
Yosufzai:
My poetry revolves around love. In my poetry, I am eliminating hatred and memories of war.
RFE/RL: How did your family react to your writing at first?
Yosufzai:
Well, I knew that writing poetry could be considered a sensitive subject and families react negatively in most cases. Keeping all possibilities in mind, when I first began writing poems I hid them. I didn't share my writings with anyone at home, but instead, I tired to attend poetry reading and writing sessions that were for women. There, I would share my writings with other women writers and critics and read others' poetry too. But, I was aware of the risks and I knew I could face every challenge at that stage. But that is what I really wanted to do so I did not care much about consequences.
RFE/RL: What do you think about post-2014 Afghanistan?
Yosufzai:
I think nowadays, every Afghan worries about what is going to happen once international troops leave the country. We already suffer in the hands of militants, warlords, irresponsible weapon holders, the severe economy and a lack of rule of law. I feel Afghanistan has changed dramatically in the past 12 years. Thousands of women are working with the media today. But thinking about what will happen after 2014, I think it is needless to say that we are afraid for our future.
RFE/RL: Tell me an important lesson that you have learned as a person through the Fellowship program that you would like to share with other women journalists?
Yosufzai:
I think what I have learned here is that you will only succeed at your work when you truly love the kind of work you do. Teamwork and the spirit of making the work place pleasant for others is something very important that I learned from working with the great team of Azadi. It has been a huge change for me and of course an incredible opportunity. I feel fortunate.
RFE/RL: Is there anything else you would like our readers to know about you as an Afghan woman?
Yosufzai:
I want them to know that living in Afghanistan means constantly and endlessly waiting for bad news, waiting to know that a loved one is killed or abducted. We want this to end. We want to have a good place in the world and live in peace.
-- Nasima Jalalzai