Haqqani Network Denies Killing Afghan Envoy Rabbani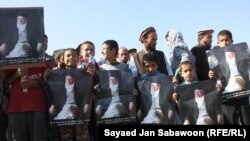 A key leader of the Afghan militant group the Haqqani network has told the BBC the group was not responsible for the killing of Burhanuddin Rabbani, the Afghan government envoy in talks with the Taliban.
In an interview released on October 3, Siraj Haqqani also said the group, blamed for a series of recent high-profile attacks on Western targets in Kabul, was not linked to Pakistan's Inter-Services Intelligence (ISI) agency.
Rabbani was killed on September 20 at his home in Kabul by a man who said he was carrying a message from the Taliban.
Afghan officials have linked the Haqqani network to Rabbani's killing, which they say was carried out by a Pakistani and was plotted in the Pakistani city of Quetta.
WATCH: Hundreds of Afghans took to the streets of Kabul on October 2 to condemn the recent shelling of border towns by Pakistan's army. Protesters chanted "Death to Pakistan."
Siraj Haqqani was giving an audio response to written questions from the BBC but the broadcaster says it believes the audio response is genuine.
Siraj Haqqani is the son of the group's founder, Jalaluddin Haqqani, and has a key role in the group's operations.
compiled from agency reports