Floods Destroy Scores Of Houses In Southern Kyrgyzstan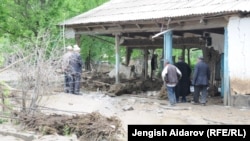 OSH, Kyrgyzstan -- Reports from southern Kyrgyzstan say floods have destroyed at least 200 houses in the region of Osh.
Local authorities said heavy rains caused large floods and landslides that hit several towns and villages in the region.
Some residents say their houses were heavily damaged and their livestock and pets missing, while dozens of hectares of arable land is covered with mud.
Farmers say they will need money to clean their fields of corn and wheat and to replant.
Cleanup work is under way.
WATCH: RFE/RL's Kyrgyz Service reports from the flood-ravaged areas (in Kyrgyz)