Thousands Protest New Hungary Law
Tens of thousands of Hungarians have protested in Budapest over a new constitution, accusing the ruling party of undermining democracy.
The January 2 protest came as Prime Minister Viktor Orban, of the ruling Fidesz party, and guests celebrated the new Basic Law at a gala at the State Opera.
Protesters denounced Orban for carrying out a power grab, calling the prime minister "Viktator" and accusing him of leading the European Union and NATO member toward dictatorship.
Critics say the new constitution, which went into force on January 1, and other actions by the government have eroded Hungary's democratic system of checks and balances by increasing political control over the judiciary, central bank, religious groups, and the media.
Some of the moves have also been criticized by the United States, the European Union, and international rights watchdogs. U.S. Secretary of State Hillary Clinton urged a rethink and European Commission President Jose Manuel Barroso in a letter asked Orban to withdraw two key bills.
Supporters of the government, which controls a two-thirds parliament majority, say the changes have improved the country's legal framework in line with what they describe as Hungarian and European values.
"The main problem with the constitution is that it is destroying the constitutional order and the new Basic Law is basically a one-party basic law," trade union leader Kornel Arok said.
The legislative changes include changes in monetary policymaking that could endanger Hungary's talks with the EU and International Monetary Fund on a finance agreement to counter investor jitters.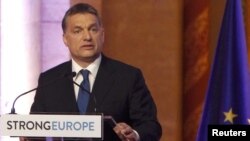 Critics say the new laws curbs Constitutional Court powers in key matters like the budget, changes the electoral system in a way that favors Fidesz, and could erode the independence of the central bank. It also allows Fidesz appointees to control key public institutions well beyond the government's electoral term.
A new media law also drew strong criticism and journalist protests recently.
Opposition lawmakers were among those detained by police at a protest in December.
Fidesz's public support fell below 20 percent last month.
compiled from Reuters and other agency reports