Iraq Reopens Syrian Border Crossings, Pledges Help To Refugees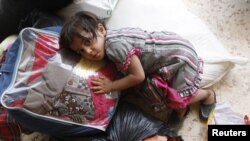 Only four days after Iraq sealed its border with Syria, Iraqi Prime Minister Nuri al-Maliki has ordered all border posts to be reopened to refugees fleeing the violence in Syria and started preparations to house the expected influx.
Maliki's decision comes amidst growing political pressure on Iraq to give Syrian refugees safe haven, just as Syria did for thousands of Iraqis seeking escape from sectarian violence in their own country in the mid-2000s.
On July 24, a government spokesperson announced that Baghdad will build two camps near border crossings to accommodate the refugees -- one near Al-Qaim and the other close to Rabiyah.
A United Nations camp in the Kurdish province of Dohuk is already up and running.
General Ahmad al-Khafaji, deputy interior minister for border affairs, said refugees heading to the UN camp will find preparations in place for their arrival.
"There is a camp for Syrian refugees in Dohuk under the supervision of the UN. We made preparations in expectation of the arrival of refugees," he said. "Most of the area surrounding Syria is desert, so it will not be exposed to the flow of refugee-seekers. If there are any Syrian refugees from the north, such as Qamishli and Durabin, they can go to the Dohuk camp under UN supervision."
Roughly 500 kilometers of the 600-kilometer border between Iraq and Syria is desert.
Open-Border Policy
Khafaji said the Iraqi government is expecting most refugees to come through one of the main border posts, the Al-Walid border, which currently functions as the main crossing point for people, including returning Iraqis, who have fled.
Throughout the past decade -- and especially at the peak of sectarian violence during 2006-07 -- tens of thousands of Iraqis fled to Syria, which has long had an open-border policy for Iraqi refugees. A January estimate by the United Nations Refugee Committee found as many as 1 million displaced Iraqis living in Syria.
As'ad Ahmad, an Iraqi who has lived in Syria for several years, says he is grateful to Syria for how well it treated Iraqi refugees.
"President Bashar al-Assad's doctrine considered Iraqis as being equal to the Syrians, [and we received] free education, free health care," he explains. "The Syrians accepted the Iraqis."
Now, with the situation reversed, Khafaji says Iraq cannot turn its back.
"We cannot deny that our Syrian brothers welcomed their Iraqi brothers during the rule of the former regime," he said, "so how can we treat them in this situation?"
$3,000 To Cover Expenses
UN and Iraqi estimates are that some 10,000 Iraqis have fled Syria in recent days. Iraqi officials estimate that some 80,000 of their citizens remain in Syria, down from 143,000 before the uprising began last year.
Baghdad has gradually increased its efforts to facilitate the return of its citizens as the violence in Syria has intensified. A few days ago it announced that all returning Iraqis will receive $3,000 to cover living expenses.
PHOTO GALLERY:
UN camp in Dohuk welcomes Syrian refugees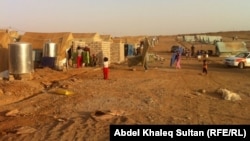 Government spokesman Ali Dabbagh said in a statement that $42 million has been allocated to "provide relief and assistance" for refugees.
Maliki's order, which applies to all border crossings with Syria, isn't popular with everyone in Baghdad. It has raised concerns among some lawmakers about the possibility of armed groups entering Iraq.
On July 19, Iraq closed one of its main border posts after Syrian rebels took control of the crossing at Abu Kamal-Qaim. They then raised a Free Syrian Army flag on the Syrian side of the border.
The incident highlighted what Shaker Ktab, a senior figure in Iraq's Democratic Labor Party, says is a divide within the Iraqi government between supporters of the Syrian rebels and supporters of the Assad regime.
Ahmad al-Abyadh, an Iraqi political analyst, also sees disagreement over the security risks involved in opening the border to fleeing refugees.
"If we house them in camps, we cannot guarantee their security, particularly in view of the divergent political opinions and a sharp rift on how to deal with the Syrian situation," he said. "There are those in Iraq who reject the Syrian regime."

Written by Deana Kjuka, with additional reporting by Reuters and AFP