American Group Used 'Dark Web,' Bitcoin To Raise Money For IS, Says Researcher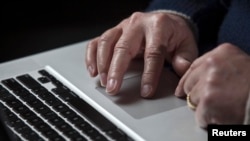 Evidence has emerged that a group operating in the Americas has made use of the so-called "dark web" and the software-based online payment system Bitcoin to fundraise for the Islamic State (IS) group, a cyberintelligence analyst has found.
Ido Wulkan, who is based in Tel Aviv and works for Singapore-based cyber intelligence firm S2T, told RFE/RL that he has recently uncovered evidence that an anonymous group has been soliciting donations for Islamic State.
Wulkan came across a reference to the Bitcoin fundraising site when surfing the "dark web" -- a collection of underground websites where users can interact anonymously -- for a client. Using a technology developed by S2T, Wulkan surfed to a closed Turkish hacker site, where he says he uncovered a reference to a website calling itself an "Islamic State donation site."
A message on the fundraising site said that those behind it were a community of Muslims, some of whom were in the United States. The site explained that the group was working with recent converts to Islam and training others to establish a new Islamic front in the U.S. and elsewhere in the Americas.
The site went on to solicit donations via Bitcoin, Wulkan told RFE/RL.
According to Wulkan, the fundraising website is the first concrete evidence that groups linked to the Islamic State group are using the dark web to raise funds.
There has, however, been other evidence that pro-Islamic State groups are using Bitcoin as a means to collect money via the mainstream Internet.
Fears that the group could do so were raised in July, after a PDF document suggesting that militants could use the software-based payment system to fund their operations was uploaded to a Wordpress blog. The document, titled Bitcoin and the Charity of Violent Physical Struggle, argued that the use of Bitcoin would make it more difficult for law-enforcement authorities to track transactions made by militants and "secretly fund the Mujahedin [militants] with no legal danger upon them."
In October, a pro-Islamic State website hosted by a Swedish server asked visitors to help support the upkeep of the site by making donations in Bitcoin.
"Many people feared that groups like [the Islamic State group] would use Bitcoin, because it's anonymous and because it's a good way to transfer money," Wulkan said.
With increasing pressure on the Islamic State group on the mainstream, visible Internet -- e.g. as pro-IS websites are closed and social networks like Twitter and Facebook move to ban IS-related accounts -- it is possible that the militant group and its supporters could move to the dark web, Wulkan says.
"The [IS group] are losing space on the regular Internet," he added.
As yet, militant activity on the dark web is very minor, according to Wulkan, who notes that the Bitcoin fundraising website is the first one that he has come across on the dark web dedicated solely to that purpose.
"I don't believe that it was a fake site," he adds, noting that the FBI has since closed down the Bitcoin account linked to the site -- but not before it had managed to raise around $1,000 using Bitcoin.
That, as Wulkan points out, is a very tiny amount compared to the Islamic State group's wealth.
However, it could indicate the start of a trend whereby groups like the Islamic State group would move to the dark web, Wulkan believes.
-- Joanna Paraszczuk