French IS Militant Hails Charlie Hebdo Attacks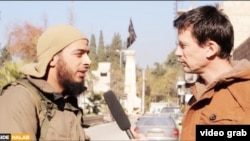 A new video released by Islamic State (IS) shows a French militant fighting alongside the extremist group in Syria, saying that he was "delighted" by last month's terrorist shooting attacks on the offices of a satirical magazine and a kosher grocery store in Paris.
The unnamed militant appeared in a video released by the Islamic State's media wing, Al-Hayat, on February 9 featuring British hostage John Cantlie.
Cantlie, who "interviews" the militant at the end of the video, says that the attacks in France had been widely covered in the Western media, which he accused of waging a propaganda war against IS.
Speaking in French, the militant said that the three attacks in Paris "only made us happy."
Twelve people died in the January 7 attack on Charlie Hebdo magazine. A policeman was killed in a January 8 attack by a third assailant, Amedy Coulibaly, who later killed four people in an assault on a kosher supermarket in east Paris.
The French militant referred to the perpetrators of the attacks as people who had "defended their religion."
"Every time we hear about one or more brothers defending their religion in the West, we only feel delighted. We learned a few days ago about these attacks and this is what delighted us," he said.
The militant praised Mohammed Merah, the perpetrator of three gun attacks in 2012 that killed three French soldiers, including a Muslim French paratrooper and four Jewish civilians -- three of whom were children -- in Montauban and Toulouse in France.
"We ask Allah to accept him," the militant said of Merah, saying that he had carried out "an exceptional operation and emboldened all my brothers in France, all my brothers in the West to defend their religion."
The militant calls on French Muslims who cannot come to Syria and join the Islamic State group there to carry out more attacks in France.
"Kill them with knives. At the very least strike them in the face," the militant said.
The French militant urges his Muslim compatriots to act, because while they are "sitting on their couches...Muslims are being slaughtered in every corner of the world."
"To my brothers in France, I say to them: start carrying out individual attacks. Be wolves on the earth," the militant said.
The militant concludes with a threat to "all the nations of the West that have resolved to attack us."
"We have already come to strike you and we are already there to attack you. The Muslims in the West number in the millions and they are capable of carrying out mass carnage," he warns.
The February 9 video is not the first time that the Islamic State group has released video messages from militants, including those from France, calling on Muslims in the West to carry out attacks in their home countries.
A video released in November featured a group of French militants, one of whom suggested that French Muslims could "poison the water and food of at least one" French civilian.
In December, a Canadian convert and Islamic State militant appeared in a video urging Canadian Muslims to carry out "indiscriminate attacks" against Canadian civilians. The militant, named as John Maguire or Abu Anwar al-Kanadi, says such attacks are a "direct response" to Canada's participation in the U.S.-led coalition against IS.
-- Joanna Paraszczuk