Italy's 'Super Mario' Starts Work To Solve Debt Crisis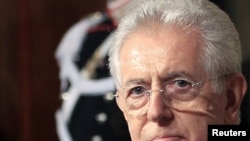 Italy's new prime minister-designate, Mario Monti, is starting work to form a new technocratic government to lead the country out of a serious debt crisis that could sink the euro currency.
Monti, a respected economist and former European Union commissioner, accepted his mandate from President Giorgio Napolitano on November 13.
Monti said Italy must "heal its finances" to resume growth and calm markets for the sake of the country's future generations.
"In a moment of particular difficulty for Italy, in a turbulent situation for Europe and the world, the country needs to meet the challenge," Monti said.
"It must return and be an even greater element of strength and not weakness in the European Union, in which we have been founders and in which we need to be protagonists."
Monti said he expected to move forward as soon as he secured a parliamentary majority for the new government, a process that usually requires weeks of negotiations.
No Time To Lose
But the urgency of Italy's crisis means Monti will have to move much faster. The country must repay or refinance around $267 billion worth of maturing bonds by April 2012.
Last week, yields on 10-year bonds rose to over 7 percent -- the rate at which Greece, Ireland, and Portugal sought EU bailouts -- and forced the resignation of Monti's predecessor, Silvio Berlusconi, after parliament approved a package of austerity measures.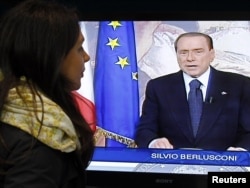 Monti could remain in office until the next scheduled elections in 2013. But the People of Liberty, Berlusconi's political party, said on November 13 that it would accept a Monti government only for a limited time before early elections.
Speaking on November 13 in remarks widely believed to be directed at Berlusconi's party, President Napolitano said Italy must make an extraordinary effort to "regain the faith of investors and European institutions."
"It is a responsibility that we have before the entire international community until we have the stability of the common monetary system and the same European movement toward the development of growth globally," Napolitano said.
Monti is expected to present his cabinet and program to parliament in the next few days.
Change Welcomed In Italy
Many Italians have welcomed Italy's biggest political shift in decades. One Rome resident reflected the general optimism over the appointment of Monti as a steady hand after years of corruption and sex scandals under Berlusconi.
"Monti is a very capable person, as everyone says, and I think he can pull Italy out of this abyss," she said.
Unlike EU countries whose debt crises forced them to accept bailouts, the fundamentals of Italy's economy, the EU's third-largest, remain robust despite the general weak growth. But as another Rome resident noted, it's too early to tell if Monti will be able to pull Italy back from the brink of financial disaster.
"I can't say if Monti will be good or bad, because we still don't know anything yet," he said. "But the important thing is we're free of Berlusconi."
A gifted networker with a serious demeanor, Monti could not be much more different than Berlusconi, who dominated Italian politics for 18 years.
Berlusconi Vows Comeback
But speaking on television on November 13 for the first time since his resignation -- when he was jeered by thousands of protesters on the streets -- Berlusconi refused to accept blame for Italy's financial crisis.
He said that "it wasn't born in Italy," and indicated he wasn't leaving the political scene.
"I would like to say something to all the people who were cheering last night at the news of my resignation," he said. "I would like to make it clear that from tomorrow I will double my efforts to renew Italy."
Berlusconi -- who had lost the support of European leaders for failing to deliver on promises of economic reform -- said his exit was an "act of generosity."
European financial markets opened slightly up on November 14 on the news in a sign of growing optimism over Italy's crisis.
Also improving the mood was the appointment on November 11 of a new prime minister in Greece, banker Lucas Papademos, who is expected to face a vote of confidence on November 16.
compiled from agency reports