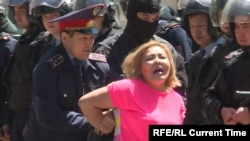 Dozens of journalists, including many from RFE/RL's Kazakh Service, were detained on May 21 while covering nationwide protests against a proposed land privatization law. Some journalists said their video recordings and photos were erased while they were in custody.
Kazakh Information and Communications Minister Dauren Abaev said on May 21 that he would "work to find out why [the journalists] were detained."
The websites of RFE/RL's Kazakh Service are blocked, but access to the service's Facebook and YouTube sites was restored later on May 21 after offering only intermittent service since May 20.
The government crackdown comes as opposition activists called for rallies to be held across the country to protest proposed changes to laws that would allow farmland to be sold and would allow foreign investors to lease parcels of land for agricultural use for up to 25 years.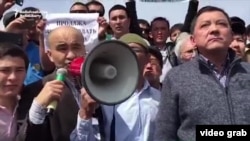 RFE/RL Kazakh Service Correspondent Saniya Toiken was detained by police April 29 while on her way to cover protests in the southwestern city of Zhanaozen. She was told she was being held as a witness to a traffic accident, but wasn't given further information. She was released from custody May 1 when the demonstrations had finished and wasn't questioned further about the alleged traffic accident. A recently announced land privatization plan has sparked protests in several cities since late April.
Vox Pop Vexation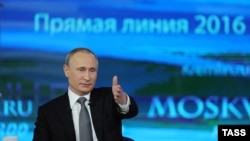 ​​
RFE/RL's Uzbek Service correspondent in Moscow, Umid Bobomatov, received several death threats by phone from April 15-16 after he reported on Russian President Vladimir Putin's annual call-in show. Bobomatov produced a video vox pop from Red Square asking Uzbek migrants what they would ask their own president if given a similar opportunity. Most were hesitant to answer on camera. When Bobomatov silenced his phone to avoid the threatening calls, he started receiving alarming text messages, one of which warned him, "watch your back," and stated that someone had already been "sent after" him.
"Current Time" Correspondents Targeted
Two freelance contributors to the Russian language TV news program "Current Time" were stopped by law enforcement officers in the Siberian city of Krasnoyarsk last week after reporting on a recently opened Putin-themed restaurant called President Café. One of the contributors was stopped again later by uniformed officers as he entered his apartment building. The officers checked his documents and suggested he "be more careful" in his line of work.
In a separate incident, a Current Time correspondent in Yekaterinburg, Russia was approached by what appeared to be security forces, though they refused to say which agency they represented. They told the correspondent they know who she works for.
The office for Crimea's de facto prosecutor-general said April 19 that journalist Mykola Semena has been ordered not to leave the peninsula while he is being investigated by the Russia-backed authorities. Semena, who is an outside contributor to RFE/RL's Ukrainian Service, is being investigated for alleged "calls for undermining the Russian territorial integrity via mass media."
Meanwhile, police conducted forced searches at the homes of seven journalists across Crimea, one of whom now faces up to five years in prison on criminal charges related to his work. International rights watchdogs and press freedom advocates have condemned the charges and searches.