Kadyrov Forbids Public Display Of Stun Guns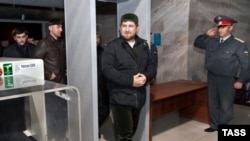 On one of his regular unannounced spur-of-the-moment tours of his country, Chechen leader Ramzan Kadyrov expressed concern over the large number of teenagers walking around with stun guns in several cities.
On June 5, he called on law-enforcement agencies to curb the possession and public display of such weapons.
According to RFE/RL's North Caucasus Service, the Chechen leader was apparently disappointed by what he witnessed, especially as he has made countless public announcements that Chechnya is gun-free.
Kadyrov cruised around the Sunzha, Urus-Martan, and Shali districts, later meeting with law enforcement officials in Grozny on June 5.
"I drove to the center and other streets," said Kadyrov in a televised speech. "The presence of young people with guns on their belts in the busy and lively areas of the city is shocking."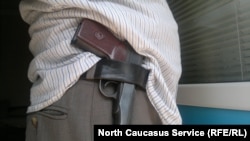 Kadyrov also equated his own concerns with those of his citizens.
He stated that ordinary civilians feel uncomfortable about the rising number of teenagers who sport stun guns on their belts.
He maintained that, when people on the street see an armed man, they cannot distinguish between a policeman and a criminal.
RFE/RL's North Caucasus Service reports that it is common practice for people in Chechnya to carry guns in public for protection.
Since the break-up of the Soviet Union, Chechnya has been marked by two wars, a rising insurgency threat, and sporadic bouts of violence.
Stun guns, which cost around $500, can be easily obtained by bribing officials.
A permit for the possession of a stun gun lasts five years.
Kadyrov, who himself owns a stun gun, does not feel the need to carry it around in public, preferring instead to keep it at home.
In the past, the Chechen leader has actually advocated the use of another nonlethal weapon -- paintball guns.
In the summer of 2010, Kadyrov ordered law-enforcement officials to use these air rifles to splatter "immodestly" dressed women on the street with paint.
-- Deana Kjuka
About This Blog
Written by RFE/RL editors and correspondents, Transmission serves up news, comment, and the odd silly dictator story. While our primary concern is with foreign policy, Transmission is also a place for the ideas -- some serious, some irreverent -- that bubble up from our bureaus. The name recognizes RFE/RL's role as a surrogate broadcaster to places without free media. You can write us at transmission+rferl.org