According To Article 400, You Can't Go On Strike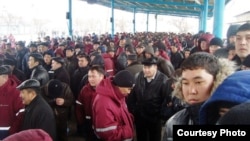 In the battle of labor versus management, the labor force in Kazakhstan is on the brink of finding itself at a huge disadvantage.
Kazakhstan's parliament is currently reviewing a package of amendments to the country's criminal code that include stiff penalties for participating in an "illegal" strike. According to Article 400 of the draft legislation, it is up to courts to decide if a strike is "illegal" and, once such a verdict is reached, anyone who shows up at such an action could receive a fine in the region of $10,000 and/or be sentenced to correctional work, or receive a jail sentence of up to three years.
It would be difficult to say with 100-percent accuracy how often Kazakhstan's courts have found in favor of plaintiffs who raise cases against state enterprises, or even private businesses, but, generally, it hardly ever happens. It would be easy to say, however, that the proposed amendments restrict freedom of assembly.
The purpose of the new draft laws seems clear, at least to RFE/RL's Kazakh Service (Radio Azattyq) and Human Rights Watch, and it can be summed up in one word -- Zhanaozen.
Zhanaozen is a town in the sparsely populated western part of Kazakhstan, the region where most of the country's onshore oil sites are located. The town was built in the late 1960s specifically to house oil workers and was the scene of unrest in June 1989.
More recently, in 2011, it was the center of strikes by thousands of oil-industry workers (including company transport workers) around the region, sparked by working conditions but also, and perhaps primarily, because of the disparity in wages paid to Chinese workers (China being a major investor in Kazakhstan's oil industry) at the sites and local workers.
The strikes lasted some seven months and noticeably hurt Kazakhstan's oil production during that time. It ended in the worst violence in Kazakhstan's history as an independent nation in December 2011, when protesters, mainly striking oil-company employees, and police clashed. Seventeen people, including many petroleum workers, were killed in the unrest.
Protest leaders were jailed, as were many of those who lent them support during their demonstrations, including opposition figures that the government said had incited the striking workers.
Breaching 'Human Rights Standards'
This is a good time to note that, besides Article 400, there is also Article 403 in the package of amendments, which makes "leading, participating in the activities of an unregistered or banned public, religious association, as well as financing their activities" illegal. So, any one mingling with striking workers, giving money to support their cause, or perhaps simply bringing food or water to them could be arrested. Human Rights Watch said Article 403 and Article 400 "do not comply with international human rights standards."
Galym Ageleuov is a Kazakh rights defender who often visited areas where oil workers were on strike in 2011 -- the sort of visits that could see him jailed if the amendments are adopted.
Radio Azattyq asked his opinion on the proposed new rules. Ageleuov said a clear mechanism is needed and suggested that the announcement of a strike should immediately, and as a formal rule, initiate a negotiating process and the formation of a reconciliation committee comprised of management and workers. He advised that production should not be effected during the negotiations. Should an agreement prove elusive then the matter could be brought to court. But he warned that representatives from the striking workers must be invited to court proceedings, something he said was not the case during the strikes of 2011. "They [management] just brought the papers [with court decisions] to the striking workers and threw the papers at them saying: 'There's the court verdict, your strike is illegal.'"
There are some things worth keeping in mind.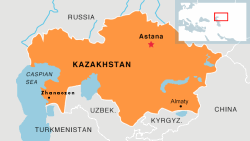 The events of Zhanaozen did not mean an end to workers going on strike in Kazakhstan. There were at least five that I know of during 2013, all but one in western Kazakhstan and mostly involving oil workers (employees at the Kamkor Locomotive plant in Mangistau Province went on strike in October).
In the 1990s there were many strikes in Kazakhstan, many having to do with unpaid salaries, although some evolved into antigovernment rallies. Workers have been going on strike in Kazakhstan because often enough they have received at least some of what they want in the end.
Zhanaozen was a national tragedy. But since then officials have pledged to invest more money in the infrastructure of the long neglected western regions. Many of the oil workers who were fired during the 2011 strikes have been rehired and, the chairman of Kazakhstan's Trade Union Federation Abelgazi Kusainov said at the end of last November that wages for foreign and local workers were heading toward parity and within two years would be equal.
But the most vibrant industries in Kazakhstan -- those already employing tens of thousands and workers and likely to create the most jobs in the coming years -- are almost all in the energy sector. And the big energy companies -- KazMunaiGaz and Kazatomprom -- are owned by the state holding company Samruk-Kazyna. Should dissatisfied workers in the oil, gas, or uranium-mining sectors decide to hold a strike they would in effect be confronting the state.
Whom do you think the courts will rule in favor of?
-- Bruce Pannier with contributions from Yerzhan Karabek and Svetlana Glushkova of RFE/RL's Kazakh Service
About This Blog
Qishloq Ovozi is a blog by RFE/RL Central Asia specialist Bruce Pannier that aims to look at the events that are shaping Central Asia and its respective countries, connect some of the dots to shed light on why those processes are occurring, and identify the agents of change. Content will draw on the extensive knowledge and contacts of RFE/RL's Central Asian services but also allow scholars in the West, particularly younger scholars who will be tomorrow's experts on the region, opportunities to share their views on the evolving situation at this Eurasian crossroad. The name means "Village Voice" in Uzbek. But don't be fooled, Qishloq Ovozi is about all of Central Asia.
Latest Podcasts