Kyrgyz PM Says Joining Customs Union Is 'Right Step'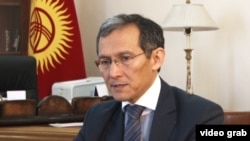 BISHKEK -- Kyrgyz Prime Minister Joomart Otorbaev says joining a Russia-led Customs Union is the "right step" and will help his country tackle many economic and social challenges.
Talking to RFE/RL on April 17, Otorbaev said Kyrgyzstan's products, except gold, are being exported mainly to the Customs Union's member states -- Belarus, Kazakhstan, and Russia -- and therefore it would be wrong to close the borders to those countries.
According to Otorbaev, joining the union would improve the investment climate in Kyrgyzstan and boost its farming sector, including the processing of agricultural products.
Otorbaev did not exclude some "negative impacts" of joining the union, which he did not specify, but said the "positive impact will prevail."
Russian officials have tried to get former Soviet republics to join the Customs Union, saying that by 2015 it will become the Eurasian Economic Space (EES), modeled after the EU.
(WATCH: Interview With Kyrgyzstan's New Prime Minister)