Something Kyrgyz And Uzbeks Can Agree On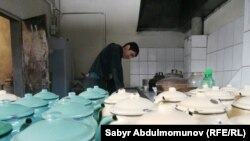 Even months after the violence in the southern Kyrgyz city of Osh, visitors can hear an awful lot of labeling.
Uzbeks are this way. Kyrgyz are that way. Some of the generalizations are mild, but many are vicious, and all the more shocking when they casually weave their way into a conversation about the need for peace and community.
There's one generalization, however, that no one seems to quibble with: Uzbeks make better cooks. From pumpkin-stuffed manty (dumplings) to plov, the meltingly savory lamb-and-rice dish, the Uzbeks have an indisputably golden touch with the region's traditional dishes. ("They're like the Lebanese," a fan recently commented. "Middle Eastern food is the same wherever you go, but everyone knows the Lebanese do it best.")
No one in the city is impartial when it comes to the June clashes, but many were united in the regret that the extensive property damage had included dozens of prosperous Uzbek cafes and chaikhanas torched during the violence.
At one recently reopened Uzbek cafe, Uzbeks and a few very happy Kyrgyz gathered for pots of hot tea, juicy mutton kebabs, and the visually humble but gustatorily transcendent meat pies known as samsa. The obliging oven master allowed us a glimpse into the inner workings of his operation:
-- Daisy Sindelar