Live Blog: Coup Attempt In Turkey
Follow all of the latest developments as they happen.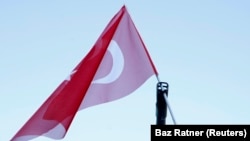 Summary
Latest News Developments
-- Security operations are continuing in Turkey following a failed military coup attempt overnight that left many dozens of people dead and more than 1,000 injured.
-- Turkish Prime Minister Binali Yildirim said on Haberturk television on July 16 that 161 people were killed and 1,440 were injured during the unrest the previous night. He did not appear to be including the 104 soldiers supporting the coup who were reported killed overnight, meaning the death total for the unrest would be 265.
-- U.S. Secretary of State John Kerry says the United States would consider an extradition request for the exiled cleric Fethullah Gulen after Turkey's president blamed the Muslim leader for an attempted Turkish military coup.
-- The Pentagon says the U.S. military has temporarily suspended air strikes against Islamic State (IS) militants in Syria and Iraq that are flown from the Incirlik Air Base in southeastern Turkey.