Malala Honored At UN Youth Assembly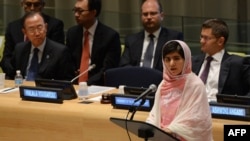 Pakistani teenage-peace campaigner Malala Yousafzai has told the United Nations that she would not be silenced by terrorist threats.
On July 12, in her first public speech since being shot by the Taliban last year, Malala reiterated her resolve to stand up to the terrorists.
"They thought that the bullet would silence us, but they failed, and out of that silence came thousands of voices," she said.
Wearing the shawl of the assassinated former Pakistani Prime Minister Benazir Bhutto, whom she described as a martyr, Malala called for greater effort to achieve universal education for children calling it "the only solution."
"I am not against anyone," she said. "Neither am I here to speak in terms of personal revenge against the Taliban or any other terrorist group. I am here to speak up for the right of education of every child."
Malala added that women should stand up to demand their rights.
She called for greater global emphasis on the well-being of the most vulnerable sections of society, including women and children.
"Today we call upon the world leaders to change their strategic policies in favor of peace and prosperity," she said. "We call upon the leaders that all the peace deals must protect women's and children's rights. A deal that goes against the rights of women is unacceptable."
Some 500 youth leaders from 85 countries took part in the event along with UN Secretary-General Ban Ki-moon and the former British Prime Minister Gordon Brown, now a special UN envoy for global education.
The UN has designated July 12 as Malala Day, and the event is taking place on her 16th birthday.
Malala was shot in the head last October by Taliban attackers while traveling from school in Pakistan's Swat Valley.
She now lives in Britain where she was brought for treatment, including skull surgery.
WATCH: Residents of Malala's hometown talk about her significance
With reporting by Reuters and AFP