Pilgrims Flock To Medjugorje For Anniversary
On June 25, about 100,000 pilgrims celebrated the 30th anniversary of the first appearance of what are described as apparitions of the Virgin Mary in the southern Bosnian town of Medjugorje. Since 1981, more than 40 million people have visited the shrine.
At dawn, pilgrims from around the world, some of them barefoot, climbed a hill above Medjugorje where six children claimed they saw visions of the Virgin Mary in June 1981.
In the village, the pilgrims attended an open-air Mass. Some of them walked on their knees around a statue of the Virgin Mary.
The Medjugorje apparition has been disputed for decades. Unlike Fatima in Portugal or Lourdes in France, the Vatican has not recognized the sightings as authentic and has not formally approved Medjugorje as a shrine site.
Last year, however, it started formally investigating the apparitions that the six claim still occur regularly.
Despite the Vatican's stance, Medjugorje has thrived, becoming one of the wealthiest towns in Bosnia.
Pilgrims never stopped coming, even during the 1992-95 Bosnian war, when heavy fighting between Bosnia's Muslims and Croats raged in nearby Mostar.
-- Nedim Dervisbegovic
WATCH -- A photo gallery of images from Medjugorje: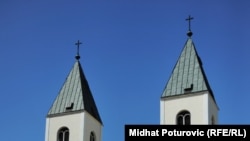 About This Blog
Written by RFE/RL editors and correspondents, Transmission serves up news, comment, and the odd silly dictator story. While our primary concern is with foreign policy, Transmission is also a place for the ideas -- some serious, some irreverent -- that bubble up from our bureaus. The name recognizes RFE/RL's role as a surrogate broadcaster to places without free media. You can write us at transmission+rferl.org