RFE/RL Honors Legacy Of President Vaclav Havel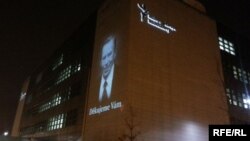 On the second anniversary of Havel's death, silhouette projection gives thanks to a great benefactor.
Vaclav Havel, the much-beloved Czech poet, playwright, dissident, and first president of post-communist Czechoslovakia and later the Czech Republic, passed away on December 18, 2011. Since then RFE/RL has paid tribute to President Havel by projecting his image on the front of our Prague headquarters building, a public thanks for all he did for RFE/RL.
"We display our tribute to the late President Vaclav Havel, who was one of the greatest benefactors of Radio Free Europe/Radio Liberty Inc., in our entire history," said RFE/RL President and CEO Kevin Klose, who also lauded Havel's "historic contributions to world peace and freedom of speech."
Havel's name is synonymous with peaceful resistance to authoritarianism and commitment to individual liberty and dignity, and through his writings he established himself as Europe's most renowned dissident voice.
WATCH: Havel Welcomes RFE/RL To The New Prague Headquarters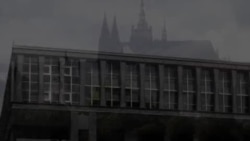 During his time as president, Havel used his influence to serve as an unyielding advocate for democratic voices the world over. Long a listener and supporter of RFE/RL, Havel invited the organization to take up residence in Prague in 1995, planting RFE/RL's headquarters in a city where its broadcasts were once banned.
--Zydrone Krasauskiene