Pakistan Frees American After 'Blood Money' Paid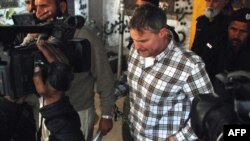 Pakistani officials say a U.S. citizen accused in the murder of two Pakistani men has been freed after the families of the victims agreed to accept a cash payment, or "blood money," for their loss.
The announcement from Punjab Law Minister Rana Sanaullah came just hours after a court in the eastern city of Lahore formally charged CIA contractor Raymond Davis with two counts of murder over the January 27 shooting deaths.
Davis had claimed the two men followed him on a motorbike through traffic and were attempting to rob him and that he acted in self-defense.
The United States said several times that Davis enjoyed diplomatic immunity under the Vienna Convention on Diplomatic Relations and should not be detained or prosecuted.
Families of the two slain Pakistanis were taken into the court and signed documents formally forgiving him in exchange for receiving an undisclosed sum of money.
Payment of "diyya," or blood money, is permitted under Islamic Shari'a law. Such compensation is often used to resolve such cases in Pakistan.
U.S. Denies Paying
In Washington, State Department spokesman Mark Toner said the United States was "deeply appreciative of the victims' families generosity in pardoning" Davis.
"We respect Pakistan for resolving the case within its own legal system," Toner said. "We strongly made the case throughout this process that Mr. Davis was a diplomat and as such, should be subject to diplomatic immunity."
But Asad Manzoor, the lawyer for the two families, cast doubt on whether they had voluntarily agreed to the deal or were forced to do so by the Pakistani government.
"I was not allowed to attend the court today. I was offered a separate room to wait. I was waiting for four hours but was not called in," Manzoor said.
"When the court proceedings ended, I noticed my clients and their families coming out and sitting in cars. I called them on their cell phone but they did not answer. So, I believe this [deal] was signed against their wish. They would have informed me if this [deal] was according to their wish."
The issue of who paid the money is also controversial. Secretary of State Hillary Clinton, speaking while on a trip to Cairo, said the U.S. government did not make the payment.
Asked if the Pakistani government had done so, she replied, "You will have to ask the Pakistani government."
The State Department's Toner echoed the denial, under repeated questioning by U.S. and Pakistani journalists, saying, "I've said all I'm going to say, which is that the U.S. did not pay compensation to the victims' families."
Toner said Davis had "left the country" but did not say where he was currently.
No Comment
Officials from the U.S. Consulate in Lahore left the jail with Davis without making any comment on the outcome of the case.
But the settlement should ease tensions that developed between the two countries when Pakistan shrugged off the U.S. claim that Davis had diplomatic immunity.
WATCH: RFE/RL Radio Mashaal acting director Daud Khattak talks about the potential for popular anger over the decision to hand over Raymond Davis.
Media in Pakistan have offered differing accounts of what happened on January 27, with some reporting the two Pakistanis who were killed were working for Pakistan's Inter-Services Intelligence (ISI) agency and others saying the two were armed robbers who had already attempted to rob other people that same day.
Davis's case angered many Pakistanis, some of whom demonstrated demanding Davis receive the death penalty.
The United States had been trying to resolve Davis's case quickly and quietly and return the focus of U.S.-Pakistani relations back to fighting terrorism.
But the decision to release Davis may still have repercussions in Pakistan.
Many people there are already displeased that the United States is using Pakistan as a transit country to ship supplies to troops in Afghanistan and that U.S. predator drone strikes continue in Pakistan's tribal areas along the border with Afghanistan.
Releasing Davis may appear to some to be an example of the government in Islamabad caving in to U.S. demands.
with agency reports