Politics Takes Toll On Pakistani Truckers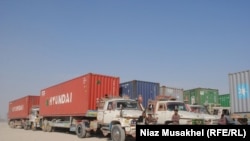 As a feud between the Pakistani government and Washington continues, private truck drivers find themselves stuck in traffic.
Truckers say they are accumulating huge financial losses and live in fear of militant attacks as they sit stranded in Pakistan, unable to travel on to deliver their goods across the border to Afghanistan. The private haulers, who carry almost half of all cargo bound for the 140,000 foreign troops in land-locked Afghanistan, can only wait out the latest rift between Pakistan and the United States.
Their plight was prompted by the Pakistani government's decision this week to close key supply routes to NATO traffic following air strikes that killed at least 24 soldiers at two remote border posts in the tribal district of Mohmand, near the Afghan border.
Shah Faisal, a truck driver, says that the fallout from the incident has created widespread uncertainty. "We have to pay the installments on our vehicles, we have to pay salaries, and we have to support our families," he says. "Now we are thinking whether this business will start again or not and what will happen to our business."
Keetab, a trailer driver who only gives his first name, says many of the stranded Pakistani drivers fear their vehicles may be targeted by militants, who have attacked NATO's convoys in the past.
Last year, insurgents torched about 150 trucks and injured police and truckers after Pakistan closed one of its Afghan border crossings to NATO supplies for 10 days in retaliation for a U.S. helicopter attack that killed two Pakistani soldiers.
"We are not sleeping the whole night. Our eyes are red because of sleeplessness. We are in big trouble and we are scared," Keetab says. "We are watching our vehicles, just watching. We want [the government] to let the [loaded] vehicles go, and then stop the supplies."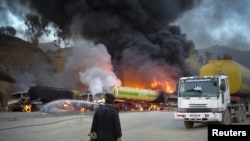 Exploring Other Options
Pakistan's decision to close off NATO supply routes was a direct expression of the "deep sense of rage" that Foreign Minister Hina Rabbani Khar has said Pakistan felt following the strikes on its territory.
NATO has apologized, calling it a "tragic, unintended incident" and said it would begin a full investigation into what happened.
Amid the row, NATO has been forced to rely on alternative supply routes through Turkmenistan, Uzbekistan, and Tajikistan to deliver goods to its troops in Afghanistan.
This "northern distribution network" was built up in response to fears that NATO was overly reliant on Pakistani supply routes.
The northern route makes up 52 percent of coalition cargo transport to Afghanistan and 40 percent for the U.S. military, which also receives around 30 percent of its supplies to Afghanistan by air, according to U.S. officials.
RFE/RL's Radio Mashaal contributed to this report