The Post-Soviet Generation Looks To Future In Europe's Poorest Country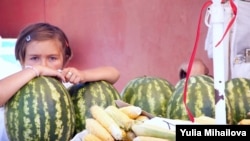 CHISINAU -- Moldova turns 20 years old next week.
This tiny nation -- which declared independence on August 27, 1991, less than a week after the hard-line coup against Soviet President Mikhail Gorbachev failed -- is arguably the most complex of the 15 independent countries that were born out of the collapse of the U.S.S.R. two decades ago. It is the poorest country in Europe, with a per capita GDP of about $3,000 and a population of about 3.5 million.
It is also deeply divided between Romanian speakers drawn to European Union-member Romania and Russophone Slavs who continue to feel the tug of old ties to Moscow. Both the Moldovan Orthodox Church, which is subordinated to the Russian Orthodox Church, and the Orthodox Church of Bessarabia, which is subordinated to the Romanian Orthodox Church, claim to be the country's national church.
Moldova's population is also extremely young, with 35 percent of its inhabitants under the age of 24. Some two-thirds of that segment lives in rural areas, and youth unemployment is one of the many daunting problems the country faces.
Yet despite their hardships and struggles, many Moldovans who were born the same year their country won its independence remain surprisingly -- and literally -- upbeat about their prospects and determined to build their futures together.
'So Many Troubles'
"Even though I know there will be difficulties in my country, I want to stay in my country and face those difficulties," says Guci, a 20-year-old native of Chisinau who performs with the rap group NotaBene. "I'm not afraid of them. At least this is my place."
NotaBene's music laments that "because of so many troubles, we can't sleep anymore. There are so many injustices that hurt."
It is cognizant of the corruption and disappointment of political life in their struggling country, it also carries defiance, determination, energy, and political awareness. It offers up a fierce indictment of the older generation without dissolving into frustrated cynicism.
WATCH: The members of hip-hop group NotaBene have grown up in an independent but struggling post-Soviet Moldova. In their lyrics and in an interview, the rappers address their concerns about inequality, corruption in government, and widespread emigration. (Produced by Paul Hodorogea, RFE/RL's Moldova Service)
In one of NotaBene's songs (see video), the lyrics ask: "What have you done for the country? / What have you done for this land? / If he were alive, Stephen the Great and the Saint would kill you. / We're like in a prison / and everybody wants to leave and never return...."
Such fatalism is not confined to urbane rappers in the capital.
Seemingly a world away, Victor Stanu is the 20-year-old son of a forest keeper. He lives with his family on a farm in the village of Rezina. Soft-spoken and hard-working, Stanu secretly dreams of someday going to university and moving away from his village.
But for now he is content following in his father's footsteps and focusing on the immediate future. When asked specifically about his future, he mentions repairing his family's home and digging a new well in the yard.
"I like it here, and I hope my life will improve in the future," Stanu says. "I hope they will make things better for us, but for the time being..."
In Search Of 'Life'
Victor's father, Nicolae, looks on his son's generation hopefully, despite the country's current difficulties.
"Yes, I do [have hope for the young generation]. I see that things change," he says. "They are strong. I see lots of boys coming back in the village. They went abroad just to earn a kopeck, but in the end, they all come back to the village. That's why I think it will be better. I have hope. And I also look with hope at who will lead this country."
Like urban rappers and rural forest keepers, many of the nation's students have an upbeat attitude about their futures.
Dumitrita Cauia, a 20-year-old student of economics at a university in Chisinau, sees her future as tightly bound with that of her country.
"Going and living abroad are not a priority for me," Cauia says. "Maybe just to study for a year or two. Otherwise, I could not leave my family and go far away from them."
Cauia likes jazz and modern art, and she exudes self-confidence and independence when she speaks. "I go where there are lots of people, where there is life," she says.
Honest Hopes
But Cauia is aware of the burden of the Soviet legacy for her country and knows that not all Moldovans share her expansive vision of the future.
"I'm bothered by the mentality of people here, especially those living in the countryside, because it's very narrow. They haven't got other horizons, and they can't see beyond what's happening around them -- only hard work and drinking," Cauia says. "We're still in a kind of a world that did not rise above this low level. We cannot compare ourselves with other more advanced countries in terms of living standards and general intelligence. Forget living standards, but at least we could think in different ways. This habit of thinking differently is still absent here."
Ecaterina Anitoi is also part of the budding leadership generation that forester Nicolae Stanu has pinned his hopes on. Twenty years old, she lives in Chisinau with her parents and younger sister, Maria. She is in her third year at Moldova State University's international relations department. In the summer, she earns some money as a secretary.
But her dream for the future is to become an honest and responsible public servant.
"I associate the independence of Moldova with my own state of freedom," Anitoi says. "At my age, I act the way I think is best. I say what I think, and I am always looking for my own way. But I also realize my advance is still slow and uncertain. In fact, it is exactly like the Republic of Moldova, which does not know yet in which direction its future lies."
RFE/RL Moldova Service correspondent Lucian Stefanescu and RFE/RL correspondent Robert Coalson contributed to this story from Prague