A Banner Day For Vladimir Putin
A Russian opposition group erected a huge banner reading "Putin, Go Away" on a rooftop facing the Kremlin today.
The black-and-yellow banner, placed on a building across the frozen Moscow River from the Kremlin, also showed Prime Minister Vladimir Putin's face crossed out with an X.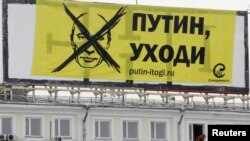 Police later removed the banner -- which bore the logo of the opposition movement Solidarity -- and said they were investigating the incident.
A leader of the group said the banner faced the Kremlin because "Putin was and remains the master of the Kremlin."
"He is the constructor and ideologue of the political system that has destroyed competition in this country," Ilya Yashin wrote in his blog.
The incident follows December parliamentary elections that the opposition says were marred by fraud. It also comes ahead of a presidential election in March in which Putin is running for a third term.
-- Central Newsroom
About This Blog
Written by RFE/RL editors and correspondents, Transmission serves up news, comment, and the odd silly dictator story. While our primary concern is with foreign policy, Transmission is also a place for the ideas -- some serious, some irreverent -- that bubble up from our bureaus. The name recognizes RFE/RL's role as a surrogate broadcaster to places without free media. You can write us at transmission+rferl.org