Turkish Quake Survivors Face Freezing Night
WATCH: Hundreds of people have been confirmed dead after a 7.2-magnitude earthquake hit eastern Turkey on October 23, with many others injured. The death toll was expected to rise as rescue officials feared for the many who remained trapped under rubble. (AP video)
By RFE/RL
Thousands of people are facing a second night in freezing temperatures after a 7.2-magnitude earthquake hit mountainous eastern Turkey on October 23.
Officials said 279 people had died and 1,300 were injured, most of them in the predominantly Kurdish cities of Van and Ercis, near the Iranian border. Hundreds of people are missing.
Both cities lie on a high plateau surrounded by snow-capped mountains, and officials said tents were being assembled and food distributed as part of a major relief and rescue operation.
Rescue teams have continued to search for survivors under the rubble of hundreds of collapsed buildings.
But reports say the chances of those still alive beneath the rubble surviving another night are fading.
Stories of successful rescues have been tempered by harrowing accounts of people who remain trapped alive.
"We were trapped under debris [in Ercis] with my brother," said one man. "I was pulled out alive, but he is still trapped there."
Interior Minister Idris Naim Sahin said the damage seemed to be worst in Ercis, where about 80 multistory buildings had collapsed. He said residents were thought to be trapped alive in the rubble of about 40 destroyed buildings.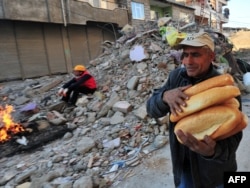 The task facing rescue workers is immense. Survivors speak of many more people trapped alive beneath the collapsed buildings.
"The situation is really bad," one man said. "Many of our friends and relatives are still trapped under rubble. We haven't heard from any of them."
Nation Mobilizing
The Turkish government has mobilized thousands of search and rescue workers from 38 cities. About 650 rescuers were working in Ercis, with another 300 in the city of Van.
Turkey's military says it also has sent six battalions of soldiers to help in the search-and-rescue efforts.
Prime Minister Recep Tayyip Erdogan rushed to Van late on October 23, warning that the death toll was likely to rise.
In particular, Erdogan expressed concern about small towns and villages in the region that are close to the epicenter of the earthquake. With telephone services failing, there has been little information about damage in remote, mountainous areas.
RFE/RL's correspondent in Turkey reports that aid offers have been made by Greece, Armenia, and Israel, despite strained relations with Turkey. But Erdogan told reporters in Van that he had declined those initial offers of help.
"Turkey will ask for help from [other] countries if necessary," Erdogan said. "Teams from just Azerbaijan, Iran, and Bulgaria are working in the area right now."
Tent Cities And Transport Obstacles
Southeastern Turkey is one of poorest parts of the country and has seen decades of fighting between Turkish security forces and militant Kurdish separatists.
Access to Van was proving difficult because the main airport in the city was damaged by the quake and many roads have been blocked.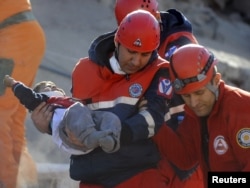 Meanwhile, the government was struggling to meet the needs of thousands of people made homeless by the quake, or those too frightened of aftershocks to return to their damaged homes.
Interior Minister Sahin said a tent city for some of the people made homeless by the quake already was being erected in Van.
"Preparations are under way to build up areas for accommodating our people," Sahin said. "Now, we are at the city's football field. We have almost completed the construction of a tent city. People continue to move in. A hundred tents are being erected."
In Ankara, Industry Minister Nihat Ergun said the Turkish government was also working to put together an economic aid package for small businesses affected by the quake. Ergun said officials from several Turkish ministries would be involved in creating the aid fund.
The quake also was felt across the border in northwestern Iran, with Iranian media reporting some panic in major cities. There were no initial reports by Iranian media of any deaths or serious damages within Iran.
written by Ron Synovitz in Prague based on reports from Dorian Jones in Istanbul and agency reports