Romanian Prime Minister Warns Violence 'Cannot Be Tolerated'
Romania's prime minister has warned that violent protests in the capital over the weekend could jeopardize the country's stability and chances for economic growth.
Peaceful demonstrations on January 14-15 in downtown Bucharest turned violent after dark when football hooligans hijacked the protest, pelting riot police with rocks and fire bombs.
(See Photo Gallery below)
Prime Minister Emil Boc told a news conference on January 16 that "peaceful demonstrations are legitimate" but that "street violence cannot be tolerated."
Authorities said more than 70 people, including four police officers, were injured and 29 arrested in Bucharest overnight.
Smaller protests were held in several other cities without incident. The Interior Ministry put the total number of protesters at 8,700 people across the country.
Some 200 protesters returned to the center of the capital on January 16, as Boc's cabinet was due to meet to discuss the new healthcare bill, which triggered the protests.
The planned health-care system reform is a part of the austerity program Romania agreed with the International Monetary Fund (IMF) and the European Union.
Boc said Romania became economically stable in 2011 but "effects cannot become palpable in the people's pockets overnight."
PHOTO GALLERY -- Romanian protests turn violent: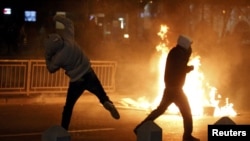 compiled from agency reports