Lavrov Slams U.S. For 'Double Standards' Over IS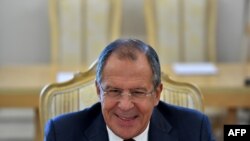 Russian Foreign Minister Sergei Lavrov has slammed what he calls Washington's "double standards in order to implement geopolitical designs," including over the fight against terrorism and the Islamic State (IS) militant group.
Speaking at an open lecture on Russian foreign policy issues on October 20, Lavrov accused the West of "strengthening the position of extremists" in Syria, after "proclaiming the slogan of the overthrow of President Bashar al-Assad."
"This contributed to the rapid proliferation of the threat posed by the terrorist group known as the Islamic State of Iraq and the Levant, or Islamic State, which has captured large swaths of Iraq and Syria and which runs them according to Shari'a law," Lavrov said.
The Russian foreign minister also slammed Washington's foreign policy in Iraq, saying that after the presence of American troops in that country for over 10 years, Iraq was "struggling with the deepest political crisis and a real threat to its existence as a unified state."
Lavrov said that Moscow is "providing consistent support for the governments of Iraq, Syria, and other countries in the region, in their opposition to power-hungry religious extremists, including through large-scale deliveries of weapons and military hardware, to actually increase their combat effectiveness."
At the same time, Lavrov emphasized that Moscow "does not participate in the U.S.-led national coalition" against IS.
"As you know, as well as the strikes on terrorists on Syrian territory, there is also armed support for the opposition, which in parallel with the Islamic State fights the Assad government, but which is considered by the Americans to be moderate, and therefore acceptable," Lavrov said. "The aim is to support this opposition in such a way that it gains the strength needed to topple the government in Syria...We are discussing this with our American colleagues, trying to understand their logic, but we have not gotten clear explanations."
Moscow's position on the armed opposition in Syria has been to declare all armed groups as terrorists and to make no distinction between the U.S.-backed Free Syrian Army and groups like IS and Jabhat Al-Nusra.
Lavrov's criticisms of the United States' actions in Iraq and Syria, and its battle against the Islamic State group, were not made in a vacuum. They are part of a wider critique by Moscow of what it believes is Washington's "imperialistic" foreign policy, particularly with respect to Russia. These criticisms come as relations between Moscow and Washington have hit a historic low point, a situation that has been exacerbated by the crisis in Ukraine, a fact Lavrov addressed both in his October 20 lecture and in comments made a day earlier.
On October 19, the Russian foreign minister told Russia's NTV that relations between Moscow and Washington had reached a "dead end" long before the Ukraine crisis.
"Problems have been piling up for a long time and they are not dwindling," Lavrov told Russia's NTV, noting that the United States had frozen the Russia-U.S. Bilateral Presidential Commission in April, in response to Russia's annexation of Crimea.
Slamming the United States for imposing sanctions on Russia over Ukraine -- sanctions which Russian President Vladimir Putin last week called "reckless" -- Lavrov said that Washington was taking an "inertial-imperial approach."
In his October 20 lecture, Lavrov again accused the United States of having imperial ambitions, saying that Washington and the West were "swimming against the tide" and trying to hold a dominant position, even though a "multipolar world" was forming.
According to Lavrov, Washington had taken this position ever since the end of the Cold War, when the United States "missed a historic opportunity, ignoring Russia's proposals to undertake joint development" in the Euro-Atlantic space.
Lavrov used the fight against Islamic State in Syria to illustrate this claim, arguing that Washington had taken action against IS "without the consent of the government of Syria."
The Russian foreign minister pressed the point that Washington had acted outside of the proper international legal framework of the UN Security Council in going ahead with air strikes against IS in Syria.
While the "scale of international challenges" necessitated "combined efforts," the United States had a desire to "rely on unilateral approaches, and act from the standpoint of superiority, exclusivity, and domination." This, Lavrov said, was a result of U.S. "euphoria" at the collapse of the "bipolar confrontation" of the Cold War.
-- Joanna Paraszczuk