Russians March To Support 'Bolotnaya Prisoners' In Moscow
MOSCOW -- A march, sanctioned by the Moscow authorities, in support of people still detained or jailed for a May 2012 protest has taken place without incident in Moscow.
Opposition leader Boris Nemtsov was at the front of the march on February 2 as several thousand demonstrators called on the authorities to release "Bolotnaya prisoners" remaining in custody.
Marchers chanted the names of those still being held as they made their way through Moscow streets.
Clashes broke out between protesters and police at the May 6, 2012, rally and led to the detention of more than 400 people.
Charges were filed against 29 people.
Three have since been convicted, one was ordered to be treated at a psychiatric hospital, eight were amnestied as part of December's amnesty to mark the 20th anniversary of the Russian Constitution, while the rest are still being detained.
WATCH: Thousands march in Moscow in support of 'Bolotnaya prisoners.'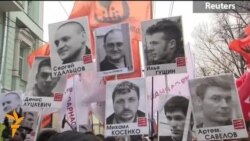 ​
​
With reporting by Interfax