Russia Marks 70th Anniversary Of Lifting Of Siege Of Leningrad
Russian President Vladimir Putin has attended events marking the 70th anniversary of the end of the 872-day siege of Leningrad during World War II.
Putin laid flowers at the Piskaryovskoye cemetery in his native St. Petersburg on January 27, commemorating the more than 1 million people who died from famine and bombardments during the siege.
He also laid flowers at the Nevsky Pyatachok war memorial, at the site where his father was seriously wounded defending the city.
Putin, accompanied by hundreds of remaining survivors of the siege, also observed a military parade.
The siege of Leningrad was a prolonged military operation against the city undertaken by Nazi Germany that lasted from September 8, 1941, to January 27, 1944.
It was one of the longest and most destructive sieges in history.
PHOTO GALLERY: The Siege Of Leningrad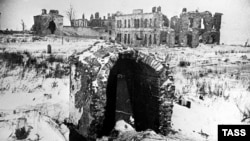 Based on reporting by Interfax and ITAR-TASS