Russia Scientists To Clone Stalingrad's Oldest Living Survivor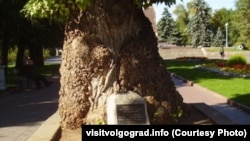 It survived one of World War II's bloodiest battles, in which some 2 million people are thought to have perished.
Although it was often pummeled by machine-gun fire and shrapnel, it stood firm as fierce fighting in Stalingrad raged around it for 200 days.
It's little wonder, therefore,that the gnarled,100-year-old poplar, which still stands in Volgograd (as Stalingrad is now known), has a special place in the hearts of the city's denizens.
The tree has been protected by the local council since 1993 and a special plaque at its base reminds passersby that the hoary old poplar "lived through the great battle."
Now, however, despite withstanding everything that Nazi Germany could throw at it, the tree seems set to finally succumb to the vicissitudes of old age.
As poplars usually only survive an average of 80 years, this centenarian is living on borrowed time.
Consequently, moves are afoot to clone the tree so that its legacy can be kept alive.
"In order to preserve the idea of continuity between generations, we have decided to use this tree's genetic material to reproduce it," a spokesperson for Volgograd's environmental authority told the RIA Novosti news agency on June 18.
Scientists have already taken 10 samples from the tree and they hope to plant the first cloned saplings in downtown Volgograd by 2014.
In this way, it is hoped that this living reminder of the city's resilience and fortitude can be preserved for decades to come.
PHOTO GALLERY: The Battle of Stalingrad in pictures
-- Coilin O'Connor
About This Blog
Written by RFE/RL editors and correspondents, Transmission serves up news, comment, and the odd silly dictator story. While our primary concern is with foreign policy, Transmission is also a place for the ideas -- some serious, some irreverent -- that bubble up from our bureaus. The name recognizes RFE/RL's role as a surrogate broadcaster to places without free media. You can write us at transmission+rferl.org