Kyiv Ditches Separatist-Linked Ribbon As WWII Symbol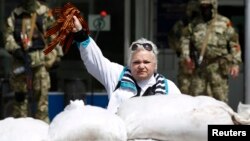 The St. George Ribbon, traditionally worn to mark victory against Nazi Germany in World War II, will be conspicuously absent from Ukraine's May 9 ceremonies this year -- at least in the country's west.
The ribbon has come to symbolize separatist sentiment in eastern Ukraine, where pro-Russia militants have seized government buildings in a dozen towns.
Instead, many Ukrainians will be donning poppies resembling those worn in Britain and other Western countries to commemorate soldiers who have died in wars.
A stylized poppy created by Kharkiv designer Serhiy Mishakin has been adopted as an official emblem for May 9.
The initiative was launched by the Ukrainian Institute for National Memory, established in 2006 by then-President Viktor Yushchenko to shed light on little-known episodes of Ukrainian history and to combat what it says are Soviet-era misrepresentations.
The institute's director, Volodymyr Vyatrovich, said the poppy was a fitting symbol since Ukrainian folk songs mention "poppies blooming where Cossack blood had been spilt."
Some, however, may see the red-and-black poppy as an unfortunate choice, since the same colors are used by Right Sector ultranationalists – a group accused by Moscow of being neo-Nazis.
-- Claire Bigg
About This Blog
Written by RFE/RL editors and correspondents, Transmission serves up news, comment, and the odd silly dictator story. While our primary concern is with foreign policy, Transmission is also a place for the ideas -- some serious, some irreverent -- that bubble up from our bureaus. The name recognizes RFE/RL's role as a surrogate broadcaster to places without free media. You can write us at transmission+rferl.org