At Least 10 Detained Following 'Day of Wrath' Protests in Moscow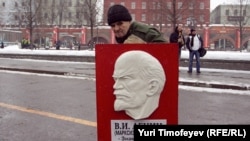 Slideshow: "Day Of Wrath" Protest In Moscow (Photos by Yuri Timofeyev from RFE/RL's Russian Service.)
MOSCOW -- Several hundred protesters gathered in central Moscow on February 12 to participate in a sanctioned "Day of Wrath" opposition rally.
Carrying placards with slogans such as "It's Time To Change Those In Power," and "No Rise In Prices And Tariffs," the protesters gathered at the city's central Theater Square but were prevented by police from staging a march on the presidential administration building.
At least 10 people were detained during the attempted march, including a leading member of the Left Front opposition movement, Sergei Udaltsov.
The "Day of Wrath" rallies are held regularly by antigovernment protesters in Russia.
WATCH: (video in Russian, no subtitles)
with agency reports