Kremlin-Connected Oligarch Fires Publishing Execs Over Vote Coverage
MOSCOW -- Kremlin-friendly oligarch Alisher Usmanov has fired two senior managers of the respected Kommersant publishing group over one of its publications' coverage of alleged violations during the recent Duma elections.
Usmanov says he was particularly upset about the publication of a photograph showing an obscene slogan addressed toward Prime Minister Vladimir Putin, which he described as "bordering on petty hooliganism."
Usmanov fired the general director of the Kommersant-Holding group, Andrei Galiyev, and the editor in chief of the newsweekly "Kommersant-Vlast," Maksim Kovalsky.
In response, the general director of the Kommersant publishing group, Demyan Kudryavtsev, submitted his resignation in protest.
"The reason for my dismissal, as I understand it, was the last issue, in which we covered in detail the elections and a big portion of the materials were about the violations with which the elections were conducted," Kovalsky told RFE/RL's Russian Service.
The issue of "Kommersant-Vlast" in question featured a cover with an ominous photograph of Putin in front of a ballot box and the headline: "The victory of the United (Russia) ballot-stuffers. How the elections were falsified. Evidence and eyewitnesses."
New Putin Era?
Of particular concern to Usmanov was one photograph of a ballot with an obscene slogan addressed to Putin. Kovalsky defends the decision to publish the photograph, which he maintains is clear evidence of an electoral violation.
"The complaint about petty hooliganism that Alisher Usmanov is talking about apparently is in connection with the photograph of a ballot on which Putin is told to go somewhere unpleasant," Kovalsky said. "One voter who cast his ballot at the Russian Embassy in London left such an inscription on his ballot. But he also placed a check mark in the box next to the party Yabloko."
He says that the law says such a ballot must be counted since "there is a mark in the box by one party and all the other parties' boxes are empty."
"Nonetheless, the ballot was declared invalid," Kovalsky said. "We published the photograph of that bulletin and did a caption that explained that this was a properly completed ballot that was declared invalid. That is, we documented a violation."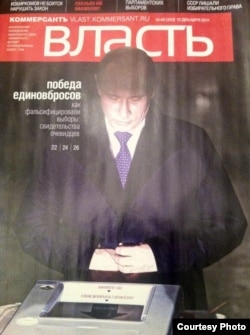 Usmanov said he might sue Kovalsky over the publication of the photograph.
Kovalsky added that he had never experienced editorial interference at "Kommersant-Vlast" before.
"There were no cases before in which someone was ringing me up and pushing me to do something or to not do something," Kovalsky said. "I never experienced direct pressure. I felt completely free."
Powerful Publisher
The 58-year-old, Uzbekistan-born Usmanov accrued his wealth in the 1990s in mining, lumber, and financial activities. He is co-owner of Mettalloinvest, owner of the Cyprus-registered Gallagher Holdings group, and chairman of Gazprominvestholdings, a subsidiary of the state-controlled natural-gas monopoly Gazprom.
In 2006, Usmanov took control of the Kommersant group, which publishes the business daily "Kommersant," from ousted former oligarch Boris Berezovsky. He also controls several broadcast properties that operate dozens of regional television and radio stations.
In 2006, Usmanov took control of the respected website gazeta.ru. He also has small stakes in the social-networking sites Facebook and Twitter.
Usmanov has been connected in several business deals with Olga Shuvalova, the wife of First Deputy Prime Minister and Putin insider Igor Shuvalov. Earlier this month, Usmanov told Bloomberg that Shuvalova was a partner in Usmanov's investments in British steelmaker Corus Group.
According to "Barrons," Shuvalova reported an income of $12 million in 2008, $20 million in 2009, and $10 million in 2010. Shuvalov has said that all this income represents dividends from investments that have been placed in a trust since he entered government service in 1997.
Written by Robert Coalson on the basis of reporting from Moscow by RFE/RL's Russian Service