Russian Police Detain Dozens During Anti-Kremlin Protests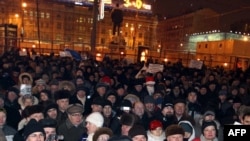 Dozens of opposition protesters have been detained during peaceful anti-Kremlin demonstrations in the Russian cities of Moscow and St. Petersburg.
Eduard Limonov, the leader of the Other Russia opposition coalition, was detained after attempting to stage an unsanctioned rally on a section of Moscow's central Triumph Square.
A court spokesman said Limonov has been sentenced to 15 days in prison for insulting the police during his arrest.
In total, police detained nearly 70 protesters, including opposition leaders Boris Nemtsov and Ilya Yashin. Nemtsov had earlier participated in a sanctioned Strategy-31 rally in another portion of the same square.
That rally, held in support of Article 31 of the Russian Constitution, which guarantees freedom of assembly, was organized by human rights leaders like Ludmila Alekseeva, the head of the Moscow Helsinki Group, and Oleg Orlov of Memorial.
The 83-year-old Alekseeva, dressed in a powder-blue Snow Maiden costume emblazoned with the number 31, called on the crowd to continue defending the right to assemble in the new year.
"The past year has shown that we are a force, and showed that we can influence the decisions of the authorities," she said.
Nemtsov, speaking at the sanctioned rally before his arrest, demanded the resignation of Prime Minister Vladimir Putin and called this week's court ruling sentencing former oil tycoon Mikhail Khodorkovsky to an additional six years in jail "a disgrace."
In St. Petersburg, police were quick to crack down on several hundred people gathered for an unsanctioned Strategy-31 protest. Journalists estimate as many as 60 demonstrators were detained, including Other Russia's leaders in St. Petersburg, Ravil Bashirov and Andrei Milyuk.
The protests came amid New Year's celebrations, which brought hundreds of thousands of people onto the streets in both cities. A police spokesman in the capital said 20,000 police and Interior Ministry forces had been deployed to maintain law and order during the New Year's celebrations.
-- RFE/RL's Russian Service