Celebs Create League Of Voters To Battle Russian Vote Fraud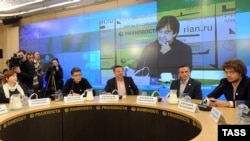 MOSCOW -- A group of leading celebrities tied to the opposition has created a League of Voters to battle fraud in Russia's March presidential election.
The group, founded by 16 Russians cultural luminaries including the popular author Boris Akunin, hopes to beef up monitoring to prevent a repeat of the disputed parliamentary elections in December.
"I'm taking part in this because I want there to finally be free and open elections and so that people believe the results," Ilya Varlamov, a prominent blogger and photographer and one of the group's co-founders, tells RFE/RL's Russian Service. "In the last 10 years, trust in the elections has been completely eroded [due to] numerous violations and falsifications."
The mechanics of the league, which was being launched at a January 18 press conference, were still under discussion. But its high-profile founding marks the first activity by the anti-Kremlin protest movement since the winter holiday lull.
Environmental activist Yevgenia Chirikova, another co-founder, says the protest needs to step up its activities after the protracted winter holiday season.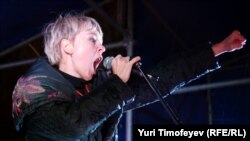 "It's really important that we don't lose our tempo, which unfortunately has slowed a little of because of the holidays," Chirikova says. "Now we have to again raise the tempo in the lead up to the presidential elections. We mustn't let slip the trends that we are seeing in society at the moment. We can't fall asleep again -- we've basically been sleeping for the last 10 to 15 years."
An estimated 100,000 people gathered in central Moscow on December 24 to protest alleged fraud in last month's parliamentary elections. The opposition plans to hold its next major protest on February 4.
The League of Voters, which includes cultural figures like rock icon Yury Shevchuk and journalist Leonid Parfyonov, highlights the increasingly visible role celebrities are playing in the anti-Kremlin protest movement.
Attempting to respond to the growing mood in society against electoral fraud, Prime Minister and presumed presidential front-runner Vladimir Putin has pledged to have cameras installed in polling stations.
Additionally, Russian media reports that roughly 30 percent of polling station staff will be replaced, purportedly to reduce election fraud.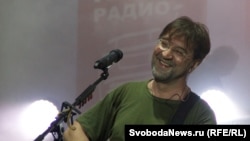 Andrei Buzin, a member of the independent election monitor, Golos, welcomed the League of Voters' formation.
But he says he's skeptical of authorities' promises to address fraud, particularly the sacking of polling station workers.
"They're scapegoats," Buzin says. "The polling station commission never falsifies elections on their own initiative -- that just doesn't happen. They work under the patronage of the regional administrations. And this is not the first time they have been fired."
RFE/RL correspondent Tom Balmforth contributed to this report from Prague