Prominent Putin Critic Dies At 77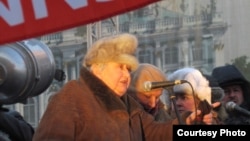 ST. PETERSBURG, Russia -- Marina Salye, one of the most prominent critics of Russia's Prime Minister Vladimir Putin, has died of a heart attack in the Pskov region near St. Petersburg.
She passed away on March 21. She was 77.
A fierce and plain-speaking veteran of the perestroika-era democracy movement, Marina Salye was a local lawmaker in St. Petersburg in the early 1990s, when she pushed for Putin's resignation as the city's deputy mayor after implicating him in a multimillion-dollar kickback scheme.
Years later, as Putin was assuming the presidency in early 2000, Salye made international headlines when she revived those allegations, documenting them with material from her legislative investigation.
Two years ago, Salye resurfaced again, telling RFE/RL that she went into hiding in 2000 because she feared for her life.
Salye recently joined the unregistered opposition Party of People's Freedom.
WATCH: Marina Salye speaking to RFE/RL's Russian Service in March 2010: