In Steubenville, Livelihoods And Votes Are On The Line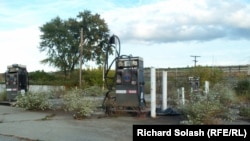 STEUBENVILLE, Ohio -- "It's pretty much a picture of urban decay," says taxi driver Joe Gondolfo, driving into the deserted downtown.
"There's nothing to do but drink," he adds, "but it wasn't always that way."
Steubenville, like many small, industrial cities in the United States, has fallen on hard times. Gone are the days when Market Street was bustling, when movie theaters and bowling alleys kept the nearly 40,000 residents entertained.
Today, the norm is boarded-up shops, abandoned gas stations, and silent streets, empty in the middle of the work week. The population has declined to less than half of what it was several decades ago, when steel factories along the Ohio River were humming and coal production boomed.
"We had depression-type scenarios way before the rest of the country did. We're more accustomed to it," says Greg Froehlich. A Steubenville native, the 58-year-old is the owner of Froehlich's Classic Corner, one of the few restaurants open in town.
The recession of the late 2000s, however, "put the nail in the coffin," he says. "2008 was my last profitable year. My gross income dropped somewhere in the vicinity of 25 percent and it's yet to have been regained."
Testing Grounds
Yet Froehlich, like the rest of the residents of Steubenville, also knows that a potential boom is just over the next hill -- or under it -- in the form of natural gas.
"Those that are in business themselves, I think, are waiting for it because they keep seeing this carrot dangled off in the not-too-far distance," Froehlich says. "They see that thing and they say, 'How can I get involved in that? How can I [benefit from] that?' And I'm one of them."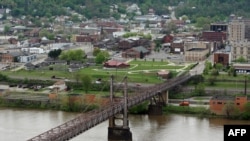 In many ways, Steubenville epitomizes what the 2012 presidential election is all about: the economy, and uncertainty as to which candidate is more likely to fix it.
Foreign affairs are foreign to most residents, who ask what policies have contributed to their woes, whether Democratic President Barack Obama could have done more to help in his first term, and if a victory for Republican Mitt Romney would mean cuts to social benefits. With the city's unemployment rate at nearly 11 percent, well above both the national and state average, such questions aren't academic -- they take on a true sense of urgency here.
How Steubenville residents answer those questions means more, in practical terms, than for many other communities across the 50 states.
'Swing State' In The Balance
Ohio is a "swing state," with a nearly equal number of registered Democrats and Republicans and a sizable number of independents. That means its 18 precious electoral votes are within reach for both Obama and Romney. According to the "Washington Post," Jefferson County, where Steubenville is located, was the most evenly split Ohio county in the 2008 election. Then, Obama carried it by just 76 votes. This year's decision also appears to be teetering on a knife's edge.
Success in this region, then, could be key to an overall Ohio victory, the importance of which can hardly be overestimated. The candidate who has won this state went on to win the election 25 of the last 27 times, including Obama in 2008. No Republican has won the presidency without winning here since Abraham Lincoln. Since June, Romney has made 23 campaign stops in Ohio, while Obama has made 17, his last coming directly following the October 3 presidential debate.
In the debate, both candidates mentioned Ohio, with Romney attacking what some have termed Obama's "war on coal"-- a reference to the federal government's increased oversight of environmental standards in mining. Even as some experts say cheap natural gas has been the driver of most coal industry lay-offs, Romney's stance is likely to appeal to voters here, where "Coal Country for Romney" posters already hang in windows.
It appeals to Froehlich, who says he's for Romney -- someone who "won't overregulate" and will "let business take care of itself."
Sitting Pretty?
A few blocks away, Ed Looman sits in an office overlooking train tracks and an empty lot. He is executive director of the Progress Alliance, a public-private partnership aimed at boosting the area's economy.
"If things continue to play out the way we're told it's gonna play out, in five [or] 10 years, you're not going to be able to recognize this town," he says hopefully.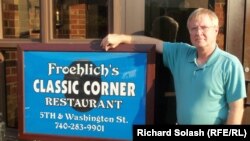 Looman is referring to the Marcellus and Utica shale-rock formations, both of which extend under this part of Ohio and contain vast reserves of natural gas. He says that while energy companies are still in an exploratory phase, the state estimates that 75,000 to 200,000 new jobs could be created in the region by 2014.
Looman says he remains undecided ahead of next month's vote but hopes that the next president will be friendly toward hydraulic fracturing, or fracking, the technique used to access the gas below the ground. While shale-gas projects are under way across the country, some have been held up or challenged over environmental and public-health concerns.
"There's excitement building in the community again and we're headed in the right direction after years of struggling," Looman says. "I mean, this is our chance. There's two things that can derail this train we're on -- one is that the stuff under the ground is not as good as everyone thinks it is and two is [that] politicians get involved. We don't need either one. We don't need anybody getting in our way."
Back On Course
But government hasn't only "gotten in the way" in Steubenville.
Across town, on the campus of Eastern Gateway Community College, Tracee Joltes says the federal government has been "very supportive" of late in providing grants to promote the new industry.
As project manager for workforce and community outreach, Joltes oversees ShaleNet, a Department of Labor-funded program that trains workers for the field. She says each of the five sessions held so far has been full, and hopes that more funding -- not more cuts -- is coming.
The college also offers other short-term training, such as in welding, a trade that will be in demand if the shale gas boom comes.
Mark Fouse, 45, says the opportunity came just at the right time. Formerly an insurance salesman, he says business was becoming too inconsistent. He's about to complete a six-month welding program that he says will lead to a job paying at least $60,000 per year.
Fouse says Obama deserves credit for trying to boost the economy and says more courses like this one are a way to do it.
"I believe the president we have now is trying to do what he said he would do," Fouse says. "But yeah, I think they should have more educational things like this that help you develop a skill or a trade, especially if you're in a situation like me, where you're not a younger person and you can't go to school for four years to get a degree. Yeah, it would help you out immensely, I believe, if they did have more training available."
Valarie Lamb, 50, is another Steubenville resident who believes Obama's policies have helped more than hindered.
Unemployed, she says she fears that if Romney is elected, she won't receive the benefits she currently relies on to get by.
"I feel like if Romney [gets] in, I'm going to the soup kitchen. Now I'm poor, and [Obama] helps me with Medicaid, housing, food stamps," Lamb says. "I can eat [and] I don't have to go rob nobody. I feel like if Romney [gets] in, I may as well just have my bowl in my hand."
For now, Lamb has a cell phone in her hand. She's taking a break between calls at the Obama volunteer headquarters on South 4th Street. Her task is to contact voters in this and other swing states to promote the president's reelection bid.
"This is my job right now," she says, "and it's important."
"I know that those people over at Romney headquarters is making calls, too."