Workers At Kyrgyzstan's Largest Gold Mine On Strike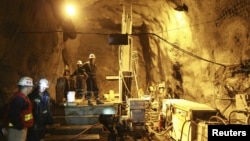 Some 1,400 workers at Kyrgyzstan's largest gold mine have gone on strike.
The head of the miners' labor union committee for rights, Eldar Tajybaev, told RFE/RL that the strikers at the Kumtor mine were demanding increased contributions to the state social-security fund on their behalf for 1993-2010 by the Canadian operator of the mine, Centerra Gold Incorporated.
One of the strikers, Adylbek Idrisov, told RFE/RL that the workers wanted Centerra Gold either to pay off all its debts to the fund or to increase all salaries to the level that would compensate the debts.
"The company has not been paying into our social-aid fund since 1993-1994," Idrisov said.
"We are now demanding that the company should pay all its debts on our behalf to the fund. If they are not able to do so, we want them to increase our salaries instead."
Centerra spokesman Sergei Dedyukhin told RFE/RL that the firm believed it has been properly contributing to the fund, in accordance with Kyrgyz laws and an agreement with miners that is valid until the end of 2012.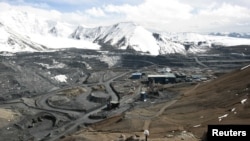 According to Dedyukhin, the dispute was sparked by a request last year by the fund to increase contributions, taking into account higher fees for workers in mountainous areas. The fund says contributions by the workers in such areas should be higher because their salaries are higher.
Dedyukhin acknowledged that the strike had already affected gold production, but added that security and safety in the mine had been maintained.
Dedyukhin said Centerra Gold had agreed to pay the workers' extra contributions for 2010 and 2011 -- as requested by the fund -- but it was decided that as of 2012, the part paid by workers has to be increased as well.
The workers did not agree with this and launched the strike, arguing that the company had not contributed to the fund from 1993-2010.
"The company's leadership held talks [with the strikers] and despite all differences, the company offered a 3 percent increase to all payment levels in the mine, which would let compensate all possible losses in salaries," Dedyukhin said.
He added that "since all procedural norms to hold the strike have been ignored," the company had asked a court to declare the strike "illegal."
Kumtor, which accounts for roughly 15 percent of the Kyrgyz economy, is located near the border with western China and has been involved in numerous labor and environmental issues.
A truck carrying sodium cyanide overturned in 1998 and dumped more than two tons of the chemical into the Barskoon River, killing at least four villagers and leaving more than 5,000 others ill or hospitalized.
With agency reports