French, British Leaders Pledge Help To Syrian Opposition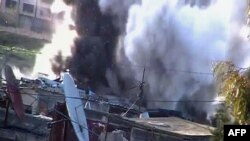 The leaders of Britain and France have pledged to help the Syrian opposition in its struggle against Bashar al-Assad's regime.
Following talks in Paris, French President Nicolas Sarkozy and British Prime Minister David Cameron urged anti-Assad forces to unite and organize themselves better.
Sarkozy also said conditions were not right for a foreign intervention in Syria.
Meanwhile, Syrian activists said troops continued to shell parts of the central city of Homs, with one opposition group saying the bombardment on February 17 was the heaviest since troops launched attacks on antigovernment strongholds 13 days ago.
WATCH: Amateur footage from Syria purportedly showing continued violence in the cities of Homs and Daraa
(AP video)
.
On February 16, the UN General Assembly overwhelmingly approved a nonbinding resolution endorsing an Arab League peace plan that calls on Assad to leave office.
Russia and China voted against the resolution.
Compiled from agency reports