Thousands In Yaroslavl Commemorate Victims Of Ice Hockey Team Crash
More than 10,000 people have taken part in a "March of Silence" in Russia's western city of Yaroslavl to commemorate members of a leading ice hockey team who died in an air crash one year ago.
Local officials as well as North American National Hockey League (NHL) and Russian ice hockey veterans were among the marchers.
The Lokomotiv Yaroslavl ice hockey team, one of the most popular in Russia, lost 36 of its players and coaches in the air crash outside Yaroslavl on September 7, 2011.
Russia's Investigative Committee announced on September 6, 2012 that the former deputy chief of the Yak Service Air Company that operated the ill-fated flight was charged with breaching air-safety regulations.
Investigators say Vadim Timofeyev gave the crew permission to fly the aircraft although they had not undergone the required training.
PHOTO GALLERY: The Lokomotiv Yarloslavl Air Disaster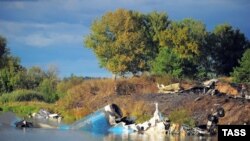 Based on reporting by ITAR-TASS and Interfax