Court Ruling on Journalist's Murder Means No Probe Of Turkish Officials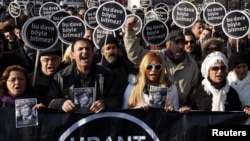 ISTANBUL -- A Turkish court has sentenced a man to life in prison for his role in the 2007 murder of ethnic Armenian journalist Hrant Dink, but has acquitted him and 17 others of charges that they acted under the orders of a terrorist organization.
The panel of judges in Istanbul found Yasin Hayal guilty of instigating Dink's murder five years ago by a 17-year-old Turkish nationalist named Ogun Samast.
Samast was sentenced in July to serve 22 years and 10 months in jail.
The ruling has angered supporters of Dink who say the trial failed to shed light on the alleged connections between the murder and Turkish state officials.
After the verdict was announced, hundreds of people participated in a protest march from the court to the newspaper office where Dink was assassinated on January 19, 2007.
"The real subjects of this case still have not been imprisoned," said one protester. "For me, it represents the state's attitude toward this kind of political murder. They mostly tend to protect the killers rather than to punish them."
Another said he had lost his faith in the country's justice system.
"I don't believe in justice in this country, so I'm not surprised [by] this," he said. "This country can't make me surprised for anything because I'm not believing in this country's justice anymore."
Ends Hopes Of Dink Supporters
Mehmet Bekaroglu, a politician and human rights activist who joined today's demonstration, said "public consciousness" in Turkey "will not be relieved unless those behind the gunmen are unmasked."
RFE/RL's correspondent in Istanbul, Dorian Jones, reports that the ruling brings an end to hopes among Dink's supporters for an investigation into the alleged collusion and negligence of state officials.
"The case involved 18 people and the remaining [suspects] have been acquitted," Jones says. "The lawyers representing Hrant Dink's family in the case have been saying that a great number of other people also were involved in this, claiming senior members of the police and senior members of the army were behind this assassination. They have been pressing very hard for the case to continue and to investigate these allegations. But with the closing of the case, the investigation has now ended."
Calls for a wider investigation also have been backed by Amnesty International and a judgment of the European Court of Human Rights.
Dink was shot dead in broad daylight outside the Istanbul office of the "Agos" newspaper, where he was the editor. He had angered many Turkish nationalists with articles that described the mass killings of Armenians during the final years of Ottoman rule as "genocide," a label Turkey fiercely rejects.
But he had also campaigned for the reconciliation of Turks and Armenians over that bloody chapter in history.
'State Tradition Of Political Murders'
Dink's assassination sent shock waves through Turkey and grew into a scandal after it emerged that security forces in Trabzon had informed Istanbul in advance about the plot but police failed to act.
Prosecutor Hikmet Usta, who conducted the investigation into Dink's assassination, had charged that the murder was committed by a cell of a shadowy group of ultranationalists known as the Ergenekon network. Their alleged motive was to destroy constitutional order in the country.
Today, a lawyer representing Dink's family, Fethiye Cetin, told journalists that the ruling was not what the family expected to hear. It upholds "the state's tradition of political murders," she said.
"Those who feel uneasy about the state being depicted as killing its own people -- being murderers, assassins -- have done nothing to clear [the state's] name," Cetin said. "They have squandered the chance they had in hand."
Written by Ron Synovitz in Prague, with Dorian Jones in Istanbul