Turkey Eyes U.S. Drones In PKK Fight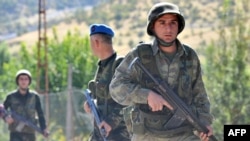 ISTANBUL -- Ankara is claiming a major diplomatic triumph after Prime Minister Recep Tayyip Erdogan said he recently received a commitment from U.S. President Barack Obama to allow Turkey to use U.S. Predator drones.
The drones are seen by Ankara as a decisive weapon in its battle against the Kurdistan Workers Party (PKK), the Kurdish rebel group.
"The atmosphere seems to be that Turkey did indeed receive a positive reply from the U.S. that some of those Predators currently in Iraq will be transferred to Incirlik and potentially made available for the use of the Turkish military," says former Turkish diplomat Sinan Ulgen, a visiting research fellow at the U.S.-based Carnegie Institute.
Turkish diplomatic sources suggest Washington had resisted for years Turkish requests, citing its need for the drones in its war against Taliban and Al-Qaeda.
Ulgen says Obama is rewarding Turkey for its support in the region, in particular its decision to participate in NATO's antimissile system, which Washington says is aimed at countering threats from rogue states including Iran.
"The big element in this equation was Turkey's acceptance for hosting the early warning radar, for the missile-defense initiative, and now Ankara's policy with regard to Damascus has been closely concerted with Washington," Ulgen says. "Now the two sides are on the same page -- and [in] part of that overall equation the U.S. gave [a] positive signal regarding...the Predators to Turkey."
The drones are seen as potentially key in the Turkish armed forces' fight against the PKK. Until recently it had used Israeli-made Heron drones. But their use has been severely curtailed since Israeli technical support ended. Ankara severed all military ties in September following Israel's deadly assault last year on a Turkish aid ship, the "Mavi Marmara," seeking to break the embargo on Gaza. According to Turkish media reports, six Herons sent to Israel for repair have not been returned.
Tensions with Israel could still pose problems for Ankara's goal of securing new drones.
"This is not a secret. This topic is being influenced by the Turkish-Israeli relations" said Alexander Vershbow, the U.S. assistant secretary of defense for international security.
It also remains unclear whether the U.S. Congress would need to ratify the drones' use by Turkey.
Asked about Erdogan's claim, a Pentagon spokesperson would only say, "The United States strongly supports Turkey in its fight against terror and will continue to work with the government of Turkey to combat terrorism in all its forms."
The spokesperson added that the United States was "committed to continuing our engagement and consultation with Congress on Turkey's defense needs."
The official did confirm that the Defense Department had notified Congress of a "possible foreign military sale" to Turkey of three AH-1W Super Cobra attack helicopters, along with training and logistical support, at an estimated cost of $111 million.
A Pentagon press release said the proposed sale "will improve Turkey's capability for self-defense, modernization, regional security, and interoperability with U.S. and other NATO members."
No Simple Task
Turkey's own defense industry is developing its own drones but has suffered several setbacks; those unmanned aircraft are not expected to enter service until late next year at the earliest.
There is added urgency for the Turkish armed forces with the PKK stepping up its fight, killing 24 soldiers last month in one of the largest and deadliest operations carried out by the group in decades. The attack was launched by the rebels from bases in neighboring northern Iraq.
"The biggest problem for Turkey in fighting against terrorism is the infiltration of PKK terrorists from northern Iraq," says Metehan Demir, a defense journalist for the Turkish newspaper "Hurriyet." "Turkey has been trying to take measures to stop the infiltration but always failed. Predators are one of the key instruments to survey the area from the air -- also some of them armed."
According to a Turkish diplomatic source, U.S. drones operating in Iraq are already providing "real-time, actionable" intelligence on PKK members based in Iraqi territory. But that supply of information is likely to end with the withdrawal of U.S. forces from Iraq due at the end of the year. The Turkish armed forces are increasingly turning to technology in the battle against the Kurdish insurgency. Drones are part of Ankara's wider strategy, according to defense journalist Demir.
"Turkey for a long period tried to use soldiers -- thousands upon thousands of soldiers on the rocky mountains on the southeastern part of Turkey," Demir says. "Now we understand it is not that easy to hold the border. Because if you know the area, it is very rocky and mountainous; also, it's a huge border. Therefore you should closely observe and professionally track the terrorists. And this will be possible with the help of technology."
Time Frames And Determination
The Turkish prime minister has indicated that Ankara expects U.S. drones to be deployed this spring at the latest. That would coincide with the deployment of more than 5,000 newly trained elite counterterror police officers and professional soldiers. Until now, much of the fight against the PKK was done by conscripts.
Cengiz Aktar, a political scientist of Istanbul's Bahcesehir University, says the success of the Sri Lankan government in its wiping out of a similar decades-long insurgency by the Tamil Tigers group is influencing thinking in Ankara.
"In Ankara among the so-called specialists, antiterror action specialists mainly, for these people the Sri Lankan final solution of May 2009 is very attractive and they think they can do it," Aktar says. "The problem is that the conflict did not start in the so-called Kandil Mountains; did not start with PKK. It's a 100-year-old problem, and it could be solved only at the negotiation table."
The government has committed itself to introducing a new constitution that it claims will address many of the demands of its Kurdish minority. But at the same time, security forces have detained more than 1,000 members of the country's main, legal, pro-Kurdish party under antiterror laws since June's general elections.
Defense journalist Metehan says it's unclear which direction Erdogan is heading in resolving the PKK conflict, but he believes he is determined to do so.
"Some people who voted for Erdogan started to say the only thing that Erdogan cannot solve so far is terrorism, [and] Erdogan is very well aware of such critics," Metehan says. "In behind-the-scenes meetings, he says this issue will be solved as soon as possible during this government's term. Therefore, he can take surprise steps in the coming months. Maybe he will be more nationalist, or he will be more diplomatic. We really don't know, but there is a plan in his mind and we will see this plan in the coming months."
Drones are widely seen as the United States' most potent weapon in its counterinsurgency campaigns, which is why the Turkish Army is attaching such importance to their acquisition. Their deployment, observers say, can only add to those voices who argue that the insurgency can still be defeated militarily.
with additional reporting by Richard Solash in Washington