live

Live Blog: Ukraine In Crisis
Follow all of the latest developments as they happen.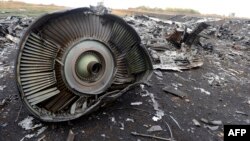 Summary
Latest News For September 28
-- An international criminal investigation into the MH17 tragedy in eastern Ukraine in 2014 has determined the Malaysian Airlines passenger jet was shot down by a Buk antiaircraft missile fired from separatist controlled territory in Ukraine.
-- Ahead of the publication of a new Dutch report on the 2014 downing of Malaysia Airlines Flight MH17 over eastern Ukraine, Russia has released what it claims are radar images showing that the missile which hit the plane was fired from territory that was not controlled by pro-Russia separatists.
-- A prominent anti-Putin protester who fled Russia for Ukraine last month has been detained while demonstrating in Moscow.
* NOTE: Times are stated according to local time in Kyiv (GMT/UTC +3)