Poroshenko Rolls Up His Sleeves: Ukraine's New President's Top, Top Priorities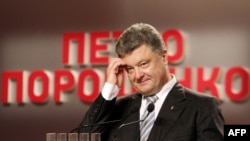 Now that he has been inaugurated as Ukraine's new president, Petro Poroshenko will have to hit the ground running as he takes on some daunting tasks to stabilize a country in the grips of economic, political, and geopolitical crises.
Here are a few of the tough knots he will have to untangle quickly:
Legitimacy
Poroshenko's election as president as the result of a broadly respected election is big step toward cementing the legitimacy of the Ukrainian government. That legitimacy has been under question by Moscow since the ouster of President Viktor Yanukovych in February.
Russia has continued to argue that Yanukovych is the legitimate president of Ukraine and has refused to hold direct talks with Kyiv. Moscow has used the purported "coup" in Kyiv as justification for its annexation of the Ukrainian Black Sea peninsula of Crimea in March and its support for pro-Russian militants in eastern and southern Ukraine.
The Economy
Ukraine's economy has been in a tailspin since at least the middle of 2012. The budget deficit has reached 12 percent of GDP and the country needs $35 billion in assistance just to break even.
Aid promised by the International Monetary Fund (IMF) and the World Bank comes with serious austerity-policy strings attached that could be difficult for the Ukrainian public to swallow.
International lending institutions are calling for up to 10 percent of public-sector workers to be dismissed and for domestic natural-gas prices to be raised by 50 percent. The Ukrainian currency lost about 25 percent of its value in the first quarter of 2014, driving up the prices of imported goods.
The IMF predicts the Ukrainian economy will contract by 5 percent in 2014, while the European Bank for Reconstruction and Development's forecast of a 7 percent decline is even darker.
The Conflict In The East And South
Poroshenko has said that stabilizing the situation in the regions of the country where pro-Russian militants have been active in recent months is his top priority.
"The first steps that our whole team will undertake from the start of the presidency should be focused on ending the war, ending chaos, ending lawlessness, and bringing peace to the Ukrainian land," he told a press conference in Kyiv on May 25.
However, the self-proclaimed separatist authorities in Donetsk and Luhansk did their utmost to disrupt and discredit the presidential election. They seem in no mood to enter into talks with Poroshenko, even though he previously said he would travel to Donetsk as soon as he formally assumed the presidency.
On the day before the presidential election on May 25, separatist leaders from eight eastern and southern Ukrainian regions met to discuss the formation of an independent state of Novorossia. Militants in the region continue to get moral and material support from allies in Russia, although some analysts have sensed the Russian government itself might be backing away from them.
Relations With Russia
Poroshenko has already said that relations with Russia are among the most important for Ukraine. He has said he would like to negotiate a new security arrangement with Moscow.
At the same time, there have been signals that Moscow will be willing to talk with Poroshenko, after months of not recognizing the legitimacy of the government in Kyiv.
However, any attempt to "reset" relations between the two countries could founder on two daunting obstacles. First, Ukraine in general -- and Poroshenko in particular -- do not recognize Moscow's annexation of Crimea. Poroshenko said on May 26 that resolving the "Crimea question" is "one of the top priorities" of the Ukrainian government. He defined the Crimea question as "the return of Crimea to Ukraine and the protection of Ukrainians living in Crimea."
WATCH: Poroshenko says he will never recognize Russia's annexation of Crimea.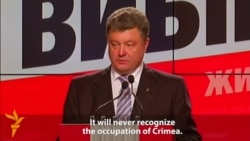 Poroshenko: 'Ukraine Will Never Recognize Occupation Of Crimea'
Second, Moscow intends to restrict Ukraine's European integration. In particular, Moscow is seeking a "guarantee" that Ukraine will never join NATO, but it remains unclear what form such assurance must take to satisfy Moscow, says analyst Masha Lipman of the Moscow Carnegie Center.
"Whether that will be some written document or, more likely, some more radical means through which Russia will be able to control the situation in Ukraine, or to control Ukraine's perspectives -- all of that will depend on how the so-called work with the new government will proceed, if in fact it begins at all," Lipman says.
"Russia has very serious levers [of influence in Ukraine]. Russia is using them actively," she continues. "So far, at least, there are no signs in Russian policy that Russia is interested in any kind of normalization in Ukraine."
Holding Together The Base
While dealing with the economy, the restive regions, and Russia, Poroshenko must also satisfy key demands of the Euromaidan movement that brought him to power.
He will most likely have to proceed as rapidly as possible to signing the Association Agreement with the European Union that Yanukovych balked at in November 2013 -- sparking the movement that ultimately drove him from office. Doing so, however, will not simplify his tasks in persuading the eastern regions to disarm or in mollifying Moscow.
Already some Maidan stalwarts have expressed dismay at the election of an oligarch from the pre-Maidan political elite as president and the fact that parliament is still dominated by the same old faces.
The Maidan activists are pushing for sweeping systemic changes, including constitutional reform, tough anticorruption measures, and the lustration of officials ties to crimes from the Yanukovych regime or from the Soviet era.
"People did not come out onto the street just for Yanukovych to flee and new people to replace him," Yehor Sobolev, a Maidan activist and former journalist
who has been leading the lustration call
, told RFE/RL in April. "That's simply not enough."
RFE/RL's Russian Service contributed to this report