Ukrainian Woman Jailed Over Suicide Bombing Set To Be Freed In Mideast Prisoner Swap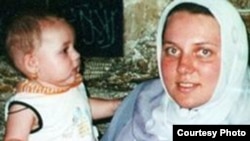 A day before a prisoner swap between Israel and the militant group Hamas, family members of a Ukrainian woman are waiting in Duhaisha refugee camp in the West Bank city of Bethlehem.
Irena Sarahna is among hundreds of prisoners who are due to be released by Israel on October 18 in exchange for captured soldier Gilad Shalit.
The Ukrainian was jailed for her involvement in a suicide bombing in Rishon Lezion in Israel in May 2002. The authorities said she and her husband took the bomber to the town where he blew himself up at a cafe, killing two other people and injuring scores more.
Sarahna's father-in-law, Ahmad, told Reuters television that he was delighted by the news of her impending release.
"Now I can calm down, which feels good," he said. "But unfortunately, three of my sons will stay in jail for life-sentence terms."
Sarahna's mother-in-law had a similar reaction. "When I heard the news I felt like flying and I told my husband: 'The girl is here, tell her that her mother will be released,'" she said.
"So he turned the volume of the television up and she started to dance with all the girls around her."
Sarahna's daughter Ghazaleh will go to receive her in Ramallah for their first meeting in some 10 years.
"Since I was eight months old, I was a baby, I did not know my mother," she said. "Now I am young and she will be released and I am happy."
Saving The Soul Of Israel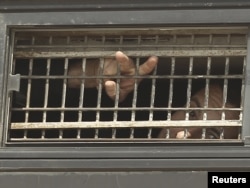 Israel has published the names of 477 prisoners, including 27 women, who are to be released on October 18 in the first phase of the deal with Hamas.
A further 550 prisoners are to be released after Shalit returns home.
Many of those to be freed are Palestinians who were jailed for plotting suicide bombings or shooting attacks.
Shalit was seized by Palestinian militants in 2006, at the age of 19.
In Jerusalem, Israeli President Shimon Peres, who must sign the pardons before the exchange, said the deal "has led to a unique test in our history, which is 'saving one soul in Israel is like saving the soul of a people.'"
Many Israelis, however, oppose the deal with Hamas, saying it dishonors the victims of attacks and will lead to more kidnappings and violence.
They have sought Supreme Court intervention before the exchange is carried out.
But judging from similar appeals in prisoner exchange deals in the past, the court is not expected to intervene in what it considers a political and security issue.
adapted from a report by Reuters