UN Security Council Approves First-Ever 'Intervention Brigade'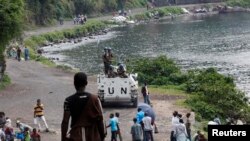 The UN Security Council has unanimously approved the first-ever "offensive" UN peacekeeping force to fight rebels in the Democratic Republic of Congo.
The 3,000-strong UN brigade has a unique mandate to carry out offensive operations to neutralize or disarm the rebels.
However, the UN resolution on March 28 says the "intervention brigade" would be established for one year on an exceptional basis "without creating a precedent" for the principles of UN peacekeeping.
M23 rebels and armed groups from neighboring countries have taken over large areas of eastern Congo.
An estimated 500,000 people have fled their homes since the M23 rebels began an offensive in April last year.
Rwanda and Uganda have been accused of backing the M23 rebel forces, who briefly captured the provincial capital, Goma, in November.
PHOTO GALLERY: Seven decades of UN peacekeeping

Based on reporting by AFP, AP, and Reuters