U.S. Ambassador Pulled Out Of Syria Amid Security 'Threats'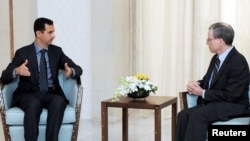 The U.S. ambassador to Syria has been pulled out of the country because of what the State Department called "credible threats" to his safety, allegedly incited by Syrian state-run media.
Robert Ford, who has upset Syrian leaders by publicly supporting protesters challenging the authoritarian rule of Syrian President Bashar al-Assad, has returned to Washington.
Speaking to reporters in Washington, U.S. State Department spokeswoman Victoria Nuland said Ford had not been withdrawn or recalled from Syria, but had been "asked to come home for consultations."
She said the decision to call Ford back to the United States came amid concerns for his safety generated by a Syrian government "smear campaign of malicious and deceitful propaganda."
"We are concerned about a campaign of regime-led incitement targeted personally at Ambassador Ford by the state-run media of the government of Syria," she said, "and we're concerned about the security situation that that has created."
Nuland cited reports run this month in Syrian state newspapers "Al-Baath" and "Al-Farwa" as inciting a threat to Ford's safety, which she said could come in the form of "violence against him, whether it's by [Syrian] citizens [or] whether it's by thugs of one kind or another."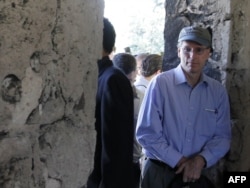 She also said that Ford was expected to return to Syria upon the completion of consultations and called on the Syrian government to ensure his safety, "just as we do in protecting [Syrian] Ambassador [Imad] Moustapha here."
However, just as Nuland was speaking, reports appeared on Arab television stations that Damascus had summoned its Washington envoy to return home, also for "consultations."
An embassy spokeswoman, Roua Shurbaji, later confirmed Ambassador Moustapha's departure on October 24 and said she had "no idea" as to when he might return.
Outspoken Critic
Ford has been an outspoken critic, through traditional channels as well as through social media, of the Syrian government's use of deadly violence against antiregime demonstrators who have been protesting for seven months. The Assad family has maintained authoritarian control over Syria for 41 years.
State Department spokeswoman Nuland said the alleged incitements against Ford could be a government effort to distract the public.
"This tactic [of targeting Ambassador Ford in the Syrian state media] certainly could be serving to try to deflect attention inside the country away from the legitimate grievances of the peaceful protesters," she said, adding that the incitement could also be aimed at directing responsibility for the unrest "in the direction of foreigners."
Syrian authorities have previously blamed the unrest on foreign countries and terrorist groups.
Ford arrived in Damascus to take up the ambassador's post in January, becoming the first U.S. ambassador there in five years.
The Obama administration had dispatched Ford in the hope of convincing the Syrian government to reduce its ties to Iran and the militant groups Hamas and Hizballah.
Syria is designated a "state sponsor of terrorism" by the State Department.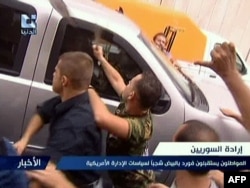 Assad's supporters have accused Ford of fomenting violence in the country.
Last month, Ford and several of his colleagues at the U.S. Embassy in Damascus were pelted with rocks, tomatoes, and eggs by supporters of Assad as they visited a Syrian opposition figure in the capital. The cars of the U.S. delegation also were attacked by a group of men brandishing metal bars.
According to the United Nations, more than 3,000 people have been killed in the government's violent crackdown against demonstrators since the protests began in March, including more than a dozen in fresh violence on October 24.
The United States, which has called for Assad to step down, has been pushing for the international community to increase pressure on Damascus. On October 5, Russia and China vetoed a UN Security Council resolution that would have condemned the government's crackdown.
with agency reports