U.S. Demands 'Immediate' Transfer Of Power In Yemen
The United States has followed a UN condemnation of violence in Yemen with its own call for a transfer of power to begin "immediately" in the restive republic.
The UN Security Council on October 21 approved a resolution condemning the violence in Yemen, where President Ali Abdullah Saleh has resisted persistent protests and armed insurrection, and urged Saleh to step down without further delay.
The U.S. State Department said the international community had sent a "clear, unified message that the time has come for President Saleh to allow the Yemeni people to live free from violence and insecurity."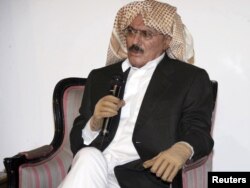 The Security Council resolution, passed unanimously, calls on Saleh to keep a promise to sign a U.S.-backed Gulf Cooperation Council agreement that would lead to his resignation and to a peaceful transition of power.
The British-drafted resolution also "strongly" condemned deadly government attacks on peaceful demonstrators that have taken place since protests against the Saleh regime erupted in January.
British UN Ambassador Mark Lyall Grant told reporters that the council's first resolution on the current situation in Yemen was a "consensus vote [that] reflects the very deep international concern about the deteriorating political, humanitarian, security and economic situation in Yemen."
Several hundred people are reported to have been killed in the Yemen violence.
compiled from agency reports