The Samarkand Green Card Scam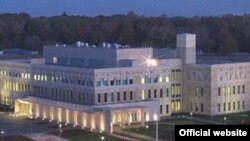 If you are a resident of Samarkand Province and you are contacted by a representative of a company, which lately has been calling itself Global Intel, it is your lucky day. You might soon not be a resident of Samarkand, or Uzbekistan.
The Samarkand-based company has hit on an unethical and ingenious scheme.
Global Intel (the name has changed several times over the years), a computer technology company, offers clients the company's services in the U.S. Diversity Visa Program -- the chance to obtain a U.S. permanent residency or "green card." Company representatives contact people and tell them there is a fee for its assistance in obtaining a green card for them, but it is payable only if an application is approved.
The best part, for Global Intel, is that these people have already been accepted to receive green cards, but they don't know it.
RFE/RL's Uzbek Service, Ozodlik, has been contacted by people wanting to tell the story of this operation and Ozodlik has done some investigating to put this tale together.
Here is how it works.
America Bound
(NOTE: Given the nature of Uzbekistan's regime and of the topic, which could be seen to reflect badly on Uzbek government policy, none of the people who spoke with Ozodlik wished to be identified.)
One young man did some work for Global Intel. We'll call him "Ishchi" (the worker).
Ishchi said he, and others, have gone to places where the records and documents of Samarkand Province's residents are kept. Armed with memory (USB) sticks these people copy all the information they can about Samarkand residents onto the portable USB drives and head for Global Intel.
Ishchi said those bringing in memory sticks are paid 400 Uzbek som (about $0.18) per name on the stick. According to Ishchi, word has gotten out and now scores of people are trying to copy this personnel information and deliver it to Global Intel.
"Ikkinchi Ishchi" (second worker) told Ozodlik what happens next. Ikkinchi Ishchi worked at the company, one of a team of low-paid workers (about 1,000 som or $0.4 per hour) whose job it was to sift through the names on the USB sticks.
They look primarily for recent college applicants, concluding such people have money saved for school. Once strong candidates are identified their personal details are taken – date of birth, residence, education record, signatures, photographs -- and an application is filled out for a green card, in English and sent to the Diversity Visa Lottery site.
The company receives notification of acceptance, including the all-important winners' code number, and then sends its representative, contract in hand, to the unknowing winner with the offer to help them obtain a U.S. green card. The company's fee "if" they are accepted is said to be about $5,000. About a week or so later the representative contacts the client to inform him or her of the happy, albeit intentionally belated, news of an impending green card.
And the deal is: first the money, then the code, and no refunds if the interview at the U.S. Embassy doesn't go well. And also, don't mention Global Intel at the interview, which hardly anyone would do anyway, since they probably already suspect their sudden good fortune is probably the result of something not quite legal.
An official at the consular department at the U.S. Embassy in Tashkent confirmed in 2012 that 63 percent of the green card winners came from Samarkand Province (and there are 12 provinces in Uzbekistan). Ozodlik's information indicates that ratio remains the same today.
Another young man, whom we will call him "Yangi Yankee" (New Yankee), is now in the United States. Ozodlik found him and he said he was surprised when he arrived in America and contacted the Uzbek Diaspora in his area, many of the other recently arrived Uzbeks were also from Samarkand Province.
Not surprisingly, the Samarkand-based company has extended its business into other provinces in Uzbekistan recently.
Diabolical, eh?
There's more.
Advanced Romance
Having learned the names of the successful applicants, the company's 1,000-som-per-hour employees, such as Ikkinchi Ishchi, refine their search and identify the unmarried young women who have been accepted for U.S. green cards.
Global Intel already has information on young unmarried men in the province. The company makes contact with an offer that, for a fee – this time $15,000 to $20,000 – they can get the names and addresses of America-bound, would-be brides so these bachelors can initiate a courting process that could see them married and living in the United States.
One of these suitors, we'll call him "Omadsiz" (the luckless) told this story to Ozodlik after he was spurned by his potential ticket-to-the-States, and lost his money. Over in the United States, Yangi Yankee said he knew of such deals.
According to accounts from these people and others, including an amazing friend of independent media who lives in Uzbekistan, the name of Global Intel's owner is Shakirjon Mukhtarov.
Ozodlik got in touch with Mukhtarov via Skype. Unaware the call was coming from RFE/RL headquarters in Prague, he started speaking to a person he believed to be an interested client. Mukhtarov did not want to go into details on Skype and invited the "client" to come to his office for a talk.
At this point the Ozodlik correspondent revealed themselves and the purpose of the call. Mukhtarov's memory and knowledge of his company suddenly failed. His office machinery similarly seemed to fail since it was impossible for any of Ozodlik's employees to make contact with him again.
Ozodlik contacted the U.S. State Department's Bureau of Consular Affairs, which oversees the Diversity Visa about the scheme.
An official there said that the United States takes such allegations "extremely seriously." The Consular Department is aware of green card scams worldwide. The official noted that information posted on U.S. Embassy websites around the world warns against offers or claims of winning a green card in some sort of lottery, or of using "any third-party facilitator" to get a green card.
The official also said the accusations Samarkand residents made to Ozodlik would be checked and measures taken to tighten the screening process.
The Samarkand scam is brilliant in some ways. Everyone gets what they want seemingly. Soon-to-be former residents of Uzbekistan, overjoyed with their good news, happily hand over money to the company, which happily takes it.
The only crime apparently being committed is the amazingly large-scale identity theft that fuels the company's business. Those rejected for a green card never know about it.
But there are losers -- the many people who do apply for U.S. green cards legitimately and without help from a company that presumably has learned a few things after filling out thousands of application forms.
-- Bruce Pannier
About This Blog
Qishloq Ovozi is a blog by RFE/RL Central Asia specialist Bruce Pannier that aims to look at the events that are shaping Central Asia and its respective countries, connect some of the dots to shed light on why those processes are occurring, and identify the agents of change. Content will draw on the extensive knowledge and contacts of RFE/RL's Central Asian services but also allow scholars in the West, particularly younger scholars who will be tomorrow's experts on the region, opportunities to share their views on the evolving situation at this Eurasian crossroad. The name means "Village Voice" in Uzbek. But don't be fooled, Qishloq Ovozi is about all of Central Asia.
Latest Podcasts